Agatha's Feather Bed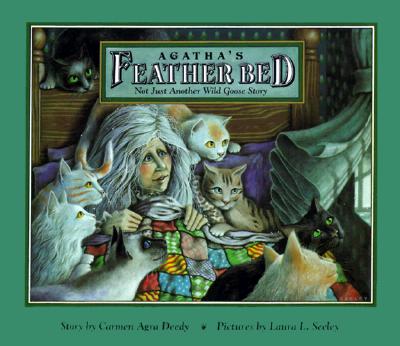 Agatha's Feather Bed
Not Just Another Wild Goose Story
Peachtree Publishers, Hardcover, 9781561450084, 28pp.
Publication Date: June 1991
* Individual store prices may vary.
Shop Local
Enter your zip code below to find indies closest to you.
Description
Professional storyteller Carmen Deedy spins a riotous morality tale in Agatha's Feather Bed. Agatha, a weaver, orders a new feather bed from B.B. Lean, then six shivering, naked geese pay her a visit . . . but, as it turns out, her goose isn't cooked. 20 full-color illustrations.
About the Author
Carmen Agra Deedy is a New York Times bestselling author and has been writing and traveling around the world telling stories for more than twenty years. Her books, including 14 Cows for America, The Library Dragon, The Yellow Star, and Martina the Beautiful Cockroach have received numerous awards and honors. Carmen has performed in many prestigious venues, but children are her favorite audience. Born in Havana, Cuba, she came to the United States as a refugee and like most immigrants sees the world from multiple perspectives.

Laura Seeley was born in Boston, MA but now resides in San Francisco, CA. She has written and illustrated numerous children's books, including Shadowbox Hunt: A Search & Find Odyssey.