Rosa's Room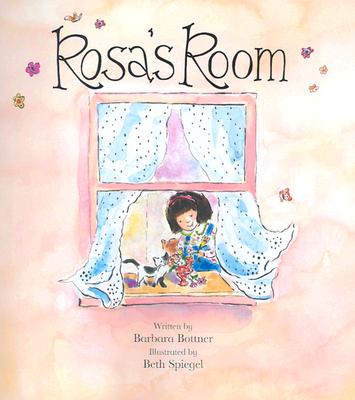 Rosa's Room
Peachtree Publishers, Hardcover, 9781561453023, 1pp.
Publication Date: March 2004
* Individual store prices may vary.
Shop Local
Enter your zip code below to find indies closest to you.
Description
Rosa and her mother have moved to a new house. Rosa knows what she needs to feel at home in her new room: on Monday, clothes in the closet; on Tuesday, her treasure box on her desk; on Wednesday, a poster on the wall. But still, somehow, her room seems empty. "More," her cat Concertina seems to say. Late at night in bed, she dreams about how to decorate her room. On Thursday, she borrows five new books the library. On Sunday, as Rosa sits in her room drawing a picture, she looks out the window and sees a girl outside playing. Now Rosa knows what she needs to make her room feel just right: a new friend to share everything with. Illustrator Beth Spiegel's full-color, appealing illustrations perfectly capture the resourceful spirit of the young protagonist, Rosa. This is a sensitive, simple story that shows young readers that even upsetting changes like moving can present exciting opportunities and imaginative possibilities for new experiences and new friends.
About the Author
Barbara Bottner is the author of many favorites for young readers, including Rosa's Room, illustrated by Beth Spiegel; the ever-popular Bootsie Barker Bites, illustrated by Peggy Rathmann; and Bootsie Barker Ballerina, also an I Can Read Book, illustrated by G. Brian Karas. Together with her husband, Gerald Kruglik, Ms. Bottner has authored the award-winning picture book Wallace's Lists, illustrated by Olof Landstrom, and the I Can Read Book Pish and Posh, which she illustrated.

Beth Spiegel has edited award-winning documentary programs for television and directed animated films that have received several international awards.