Under the Snow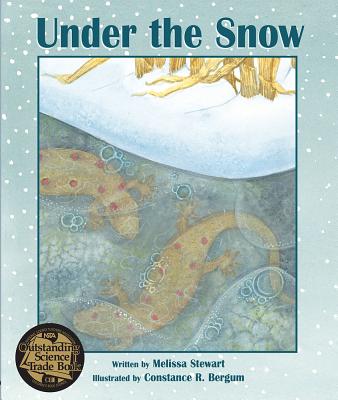 Under the Snow
Peachtree Publishers, Hardcover, 9781561454938, 1pp.
Publication Date: September 1, 2009
* Individual store prices may vary.
Buy Now
or
Shop Local
Enter your zip code below to purchase from an indie close to you.
Description
When snow falls, we love to sled and skate and have snowball fights. But at the end of the day, we go home where it is warm and safe. What about all those animals out there in the forests and fields? What do they do when snow blankets the ground? Journey from your neighborhood to the woods, where ladybugs crowd together in a gap in the stone wall and a chipmunk snoozes in his burrow. Take a side trip to the pond, where a carp rests quietly on the bottom and a green frog nestles in the mud, scarcely breathing. And then as winter passes and the suns rays grow stronger, join all the animals as they get ready for spring. Award-winning science writer Melissa Stewart offers a lyrical tour of a variety of habitats, providing young readers with vivid glimpses of animals as they live out the winter beneath the snow and ice. Constance R. Bergums glowing watercolors perfectly capture the wonder and magic that can happen under the snow.
About the Author
Dr. Melissa Stewart is founder and Executive Director of the Organization of Patient Educators. Using her patient-centered Medagogy approach the conceptual framework discussed in Practical Patient Literacy she has effectively taught health care professionals how to improve their education and communication techniques.
Dr. Stewart is on the faculty at Our Lady of Lake College, and also serves as Director of Education at eQHealth Solutions, the Medicare Quality Organization for Louisiana. She received her Doctorate of Nursing Practice from Case Western Reserve University in Cleveland, and completed her Masters in Education at the University of Louisiana at Lafayette. She is a Registered Nurse and Certified Patient Educator.
In 2010, Dr. Stewart authored a resolution making health literacy a major initiative for the American Nurses Association. Dr. Stewart s patient literacy work and her UPP tool were used in a Center of Medicare and Medicaid Services (CMS) pilot program administered by eQHealth. That project resulted in special recognition from the CMS for its leadership role in Care Transitions.
Constance R. Bergum has illustrated many children's books. She holds an MFA in illustration from Marywood University.