Fix-It and Forget-It Cookbook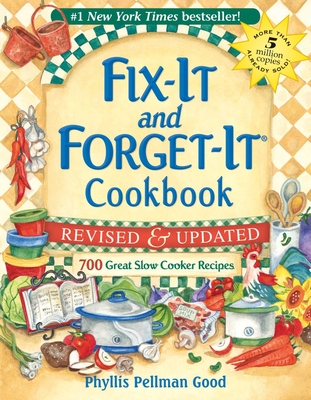 Fix-It and Forget-It Cookbook
700 Great Slow Cooker Recipes
Good Books, Spiral, 9781561486861, 284pp.
Publication Date: May 1, 2010
* Individual store prices may vary.
Not Currently Available for Direct Purchase
or
Shop Local
Enter your zip code below to purchase from an indie close to you.
Description
    
     One of the bestselling slow-cooker cookbooks of all time, with more than 5 million copies sold, this collection of 700 recipes gives you everything you need to prepare outstanding breakfasts, lunches, and dinners, plus appetizers and desserts. The must-have slow-cooker cookbook.
     
     Fix-It and Forget-It Cookbook — that knock-it-out-of-the park, slow-cooker cookbook — is back in a REVISED and UPDATED form. The book has already sold more than 5 million copies, so we didn't want to spoil it! 
     
     We have only added a few enhancements to this original cookbook in the wildly claimed Fix-It and Forget-It cookbook series: 
     
     1. Brand New: 100 new recipes for slow cookers. 
     
     2. Brand New: "Prep Time," "Cooking Time," and "Ideal Slow-Cooker Size" are included for each recipe. 
     
     3. Brand New: 4 pages of basic and very helpful "Extra Information": "Substitute Ingredients for When You're in a Pinch" "Equivalent Measurements" "Kitchen Tools and Equipment You May Have Overlooked" "Assumptions about Ingredients in Fix-It and Forget-It Cookbook, Revised and Updated" 
     
     4. Brand New: 1 page of "Tips for Using Your Slow Cooker: A Friendly, Year-Round Appliance." 
     
     5. Brand New: Additional tips and tricks for making the most of your slow cooker, spread throughout the book. 
     
     6. Brand New: A second color—a rich purple—for recipe titles, contributors' names and addresses, the words "Tip" and "Variation," and the numbered instruction steps. 
     
     7. Brand New: The drawings on the opening pages of chapters and the spot illustrations throughout. 
     
     8. Brand New: 1 page of tip-in color, right inside the front cover. 
     
     9. Brand New: 2 pages of review excerpts to position the original book's success, immediately following the tipin page of color. 
     
     10. Revised: An improved Index! 
     
     11. Revised: A personal Introduction to the book by author Phyllis Pellman Good. 
     
     12. Revised: Good's personal comments and voice throughout the recipes. 
     
     We've learned a lot since the original Fix-It and Forget-It Cookbook first quietly appeared. Now you and your customers can benefit with this new edition of the beloved favorite — Fix-It and Forget-It Cookbook REVISED and UPDATED!
About the Author
Phyllis Pellman Good is a "New York Times" bestselling author whose books have sold more than 10 million copies. Good is the author of the nationally acclaimed Fix-It and Forget-It slow-cooker cookbooks, several of which have appeared on the "New York Times" bestseller list, as well as the bestseller lists of "USA Today", "Publishers Weekly", and "Book Sense".