Fix-It and Forget-It Lightly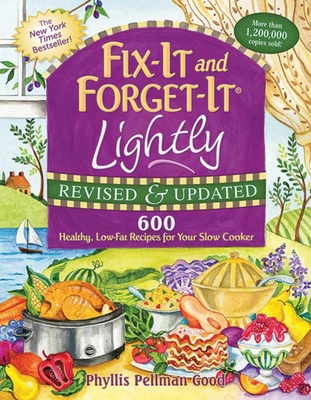 Fix-It and Forget-It Lightly
600 Healthy, Low-Fat Recipes for Your Slow Cooker
Good Books, Hardcover, 9781561487202, 283pp.
Publication Date: April 1, 2011
* Individual store prices may vary.
Buy at Local Store
Enter your zip code below to purchase from an indie close to you.
or
Buy Here
Description
A New York Times Best Seller
This favorite guide to quick and easy-to-prepare slowcooker food has sold more than 1.2 million copies. It is now available in a Revised and Updated edition It is possible to have it all: food from your slow cooker that is scrumptious and low-fat, and convenient to make. Here are 600 recipes that are mouth-watering but guilt free. Now you can choose healthy, light dishes, fix them quickly, and then forget about them until mealtime. With each recipe in Fix-It and Forget-It Lightly, Revised and Updated, comes an analysis of its calories, fats, and carbs, as well as what it contributes to your daily vitamins and nutrients. You can feast healthfully--with a minimum of time and fuss. Your family and friends--your waistline and your heart--will thank you. We've added some enhancements to the original Fix-It and Forget-It Lightly cookbook, being careful not to ruin what you've loved about it:
1. Brand New: 100 new recipes for slow cookers, each with nutritional analysis.
2. Brand New: "Prep Time and "Cooking Time" are included for each recipe.
3. Brand New: 4 pages of basic and very helpful "Extra Information": "Substitute Ingredients for When You're in a Pinch" "Equivalent Measurements" "Kitchen Tools and Equipment You May Have Overlooked" "Assumptions about Ingredients in Fix-It and Forget-It Lightly, Revised and Updated."
4. Brand New: 1 page of "Tips for Using Your Slow Cooker: A Friendly, Year-Round Appliance."
5. Brand New: A second color--a spring green--for recipe titles, contributors' names and addresses, the words "Tip" and "Variation," and the numbered instruction steps.
6. Brand New: The drawings on the opening pages of chapters and the spot illustrations throughout.
7. Brand New: 1 page of tip-in color, right inside the front cover.
8. Revised: An improved Index
9. Revised: A personal Introduction to the book by author Phyllis Pellman Good.
10. Revised: Good's personal comments and voice throughout the recipes.
Skyhorse Publishing, along with our Good Books and Arcade imprints, is proud to publish a broad range of cookbooks, including books on juicing, grilling, baking, frying, home brewing and winemaking, slow cookers, and cast iron cooking. We've been successful with books on gluten-free cooking, vegetarian and vegan cooking, paleo, raw foods, and more. Our list includes French cooking, Swedish cooking, Austrian and German cooking, Cajun cooking, as well as books on jerky, canning and preserving, peanut butter, meatballs, oil and vinegar, bone broth, and more. While not every title we publish becomes a national bestseller, we are committed to books on subjects that are sometimes overlooked and to authors whose work might not otherwise find a home.

About the Author
Phyllis Pellman Good is a New York Times bestselling author whose books have sold more than 11 million copies. Good is the author of the nationally acclaimed Fix-It and Forget-It slow-cooker cookbooks, several of which have appeared on the New York Times bestseller list, as well as the bestseller lists of USA Today, Publishers Weekly, and Book Sense. The series includes eight titles. The most recent are Fix-It and Forget-It Pink Cookbook, to benefit the Avon Foundation and Fix-It and Forget-It Diabetic Cookbook, Revised and Updated, with the American Diabetes Association. Good is also the author of the Fix-It and Enjoy-It series, a "cousin" series to the phenomenally successful Fix-It and Forget-It Cookbooks. Phyllis Pellman Good is Executive Editor at Good Books. (Good Books has published hundreds of titles by more than 135 authors.) She received her B.A. and M.A. in English from New York University. She and her husband, Merle, are the parents of two young-adult daughters. For a complete listing of books by Phyllis Pellman Good, as well as excerpts and reviews, visit www.Fix-ItandForget-It.com or www.GoodBooks.com.