The DIY Bride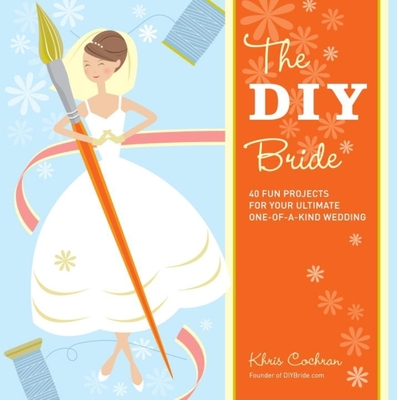 The DIY Bride
40 Fun Projects for Your Ultimate One-Of-A-Kind Wedding
Taunton Press, Paperback, 9781561589647, 218pp.
Publication Date: December 31, 2007
* Individual store prices may vary.
Buy Now
or
Shop Local
Enter your zip code below to purchase from an indie close to you.
Description
From choosing a delicious menu to assembling the guest list, hundreds of details go into planning a successful wedding. The DIY Bride helps brides put their stamp on the big day without breaking the bank. Written by the creator of the number one Web site for wedding crafts, DIYBride.com, this fun, easy guide showcases unique, easy-to-do craft projects that range from beautiful handmade announcements and invitations to personalized favors and much more. Khris Cochran includes valuable cost-comparison sidebars that clearly detail the huge savings involved. She also shows brides how to involve their friends and families in the project-making process, making this a fun journey for all. The DIY Bride is an essential purchase for any woman who dreams of an unforgettable wedding--from the inside out.
About the Author
A DIY Bride herself, Khris Cochran is the creator and founder of the award-winning DIYBride.com, one of the most popular bridal crafting websites out there today. The DIYBride website is one of the most-linked sites, with links from The Knot, Modern Bride, and Brides magazines, and hundreds of references to the site from wedding message boards. In addition to dishing out wedding expertise daily on DIYBride.com, Khris teaches craft classes in the San Francisco Bay Area. This is her first book.
Praise For The DIY Bride…
"DIY Bride is a classy, sassy, oh-so-fun crafty approach to livening up your big wedding day. Khris Cochran serves up a delectable tray of clever ideas that are frosted with style and originality and proves that having a luxurious, signature wedding doesn't mean you have to empty your bank account. Just your glue gun!" -- Kathy Cano-Murillo, CraftyChica.com
Khris Cochran's The DIY Bride provides inspiration and projects for save-the-date cards, invitations, jewelry and accessories, ceremony decorations, programs, favors and more. Cochran, who founded the website DIYBride.com, also provides a cost comparison to show how much a similar item would cost if purchased in a store, allowing busy couples to decide whether it would be better to buy or make certain projects. A hair ornament for a flower girl, for example, costs about $5 to make but would cost about $40 to buy. The DIY Bride provides clear instructions and suggests whether a project could be completed by the couple themselves, with the help of the wedding party or with members of the family, offering clever ideas and the potential for fun invitation-building parties with friends."--Bookpage
"Khris Cochran, founder of DIYBride.com, helps send do-it-yourselfers down the aisle on the cheap with her new, illustrated book "The DIY Bride: 40 Fun Projects for Your Ultimate One-of-a-Kind Wedding" (Taunton, $19.95). The book offers step-by-step, budget-saving craft ideas for those planning to wed. --"Dayton Daily News "(Ohio)
This book is for the bride who loves arts and crafts. It tosses out cookie-cutter wedding standards and gives creative instruction for makinginvitations, accessories, favors, programs and decor that will leave a personal stamp on your wedding. "--The Birmingham News (AL)
The moment after a woman says yes to the BIG question, she is deluged by even more questions -- and all of them have to do with the wedding. Khris Cochran, founder of www.DIYbride.com and author of  The DIY Bride, has plenty of answers to brides' questions, especially brides who want a wedding that isn't like everyone else's, and one that doesn't cost a fortune. The DIY Bride is replete with cost comparison information; for example, custom-printed wedding invitations may cost as much as $2.50 each. Do-it-yourself invitations can cost as little as 35 cents. Directions for projects are detailed and well-illustrated. Tips and hints are sprinkled liberally throughout the book. An index and resource guide add to the user-friendliness of the book. "--Bangor Daily News (Maine)