Taxes, the Tea Party, and Those Revolting Rebels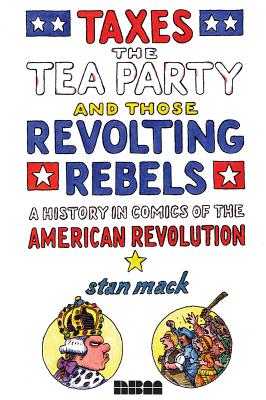 Taxes, the Tea Party, and Those Revolting Rebels
A History in Comics of the American Revolution
Nantier Beall Minoustchine Publishing, Hardcover, 9781561636976, 166pp.
Publication Date: August 1, 2012
* Individual store prices may vary.
Buy at Local Store
Enter your zip code below to purchase from an indie close to you.
or
Buy Here
Description
Presenting the American Revolution in a fun, easy-to-understand fashion, Stan Mack's illustrated rendition makes history entertaining while providing lucid insight into the revolution's real-life participants, as well as its successes and failures. This graphic account of the birth of the United States stars a chubby, insecure King George III, rebellious and misunderstood colonists, and loudmouthed and insensitive aristocrats, providing information about the Boston Tea Party and the revolt against the status quo. Uncannily relevant to today's world, this whimsical and informative pictorial history tells the story of the original peoples insurgence.
About the Author
Stan Mack is an award-winning cartoonist and former art director of the New York Times Sunday Magazine. He has created cartoon features for Adweek, Bon Appetit, Modern Maturity, Natural History, the New York Times and the New Yorker. He has authored and/or illustrated over a dozen books for children, teens (in collaboration with Janet Bode) and adults including The Story of the Jews: A 4,000 Year Adventure A Graphic History Book.
Stan Mack is available to speak on the following topics: Drawing ComicsGraphic Novels
Praise For Taxes, the Tea Party, and Those Revolting Rebels…
"A cartoonist de-mythologizes the Founding Fathers and makes them more like us."  —New York Times

"Delightfully illustrated in his distinctive minimalist cartoon style, Mack's first original book-length effort puts the 'real life' back into our revolutionary roots, providing capsule portraits of the prominent activists of the time, along with their many idiosyncrasies, comic flaws, and strategic bungling."  —Publishers Weekly

"Mack the populist does not write dispassionately."  —Harvey Pekar

"A people's-eye view of history, an attempt to get beyond and behind the idealized accounts of the deeds of kings, generals, and heroes."  —Houston Chronicle

"Mack's loose cartoony art captures its loudly contentious cast without either mythologizing or condescending to them. Recommended reading for those of us who only hazily remember our public school history classes." —Seattle Post Intelligencer

"This humanized account of the dawn of the American project is a beautiful piece of work, and a strong tonic against the whitewash of history. There's bravery in this history, and sacrifice, and cunning and resolve. But with the founders' failings and flaws on display, we can see that America's problems have been there since the start." —www.BoingBoing.net

"Mack's history of the American Revolution strikes just the right balance. It's packed with names, dates, places, and ideas, but they only come up when they're needed, as though Mack is giving an enthusiastic, on-the-fly lecture rather than laying out information to be memorized." —Teacher Librarian (December 2012)

"Accessible, thought-provoking, and highly discussable, this version of how the United States became independent of the British Crown may well inspire readers to see the relevant aspects of studying history as well as reading nonfiction comics." —School Library Journal (November 2012)