In the Penny Arcade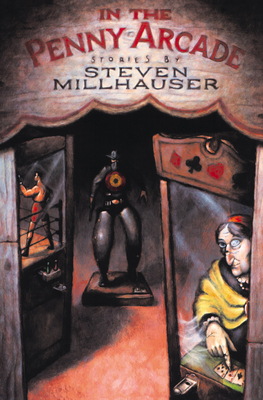 In the Penny Arcade
Stories
Dalkey Archive Press, Paperback, 9781564781826, 176pp.
Publication Date: March 1, 1998
* Individual store prices may vary.
Buy Now
or
Shop Local
Enter your zip code below to purchase from an indie close to you.
Description
After the success of his first novels (Edwin Mullhouse and Portrait of a Romantic), Steven Millhauser went on to enchant critics and readers with two short story collections that captured the magic and beauty of his longer works in vivid miniature.The seven stories of In the Penny Arcade blend the real and the fantastic in a seductive mix that illuminates the full range of the author's gifts, from the story of "August Eschenburg," the clockmaker's son whose extraordinary talent for creating animated figures is lost on a world whose taste for the perverse and crude supercedes that of the refined and beautiful, to "Cathay," a kingdom whose wonders include elaborate landscape paintings executed on the eyelids and nipples of court ladies.
About the Author
Steven Millhauser was born in 1943 in New York City, and grew up in Connecticut. He received a B.A. from Columbia University in 1965, and went on to pursue a doctorate in English at Brown University. He never completed his dissertation, but did complete a novel that was eventually published in a pared-down form under the title "From the Realm of Morpheus-as well as Edwin Mullhouse." However, it was for his stories that Millhauser became best known; immaculately written, curiously vivid, they trod on fantastic boards in a manner reminiscent of Poe or Borges, but with a distinctively American voice. After "In the Penny Arcade," Millhauser's collections continued with "The Barnum Museum" (1990), "Little Kingdoms" (1993), and "The Knife Thrower and Other Stories" (1998). Steven Millhauser lives in Saratoga Springs, New York, and teaches at Skidmore College.