Cigarettes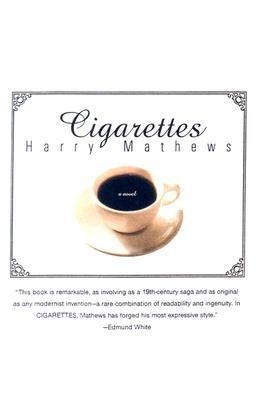 Cigarettes
Dalkey Archive Press, Paperback, 9781564782038, 304pp.
Publication Date: October 1998
* Individual store prices may vary.
Not Currently Available for Direct Purchase
or
Shop Local
Enter your zip code below to purchase from an indie close to you.
Description
"Cigarettes" is a novel about the rich and powerful, tracing their complicated relationships from the 1930s to the 1960s, from New York City to Upper New York State. As we have come to expect from a Harry Mathews novel, nothing is as simple as it might appear to be, but we could describe this as a story about Allen, who is married to Maud but having an affair with Elizabeth, who lives with Maud. Or say it is a story about fraud in the art world, horse racing, and sexual intrigues. Or, as one critic pointed out, compare it to a Jane Austen creation, or to an Aldous Huxley novel--and be right and wrong on both counts. What one can emphatically say is that "Cigarettes" is a brilliant display of Harry Mathews's ingenuity and deadly playfulness.
About the Author
Born in New York in 1930, Harry Mathews settled in Europe in 1952 and has since then lived in Spain, Germany, Italy, and (chiefly) France. When Mathews published his first poems in 1956, he was associated with the so-called New York School of poets, with three of whom (John Ashbery, Kenneth Koch, and James Schuyler) he founded the review Locus Solus in 1961. Through his friendship with Georges Perec, he became a member of the Oulipo in 1972. The author of six novels and several collections of poetry, recent publications are THE NEW TOURISM (Sand Paper Press, 2010), Sainte Catherine, a novella written in French (Editions P.O.L, 2000), The Human Country: the Collected Short Stories (Dalkey Archive Press, 2002), The Case of the Persevering Maltese: Collected Essays (Dalkey Archive Press, 2003), OULIPO COMPENDIUM (co-edited with Alastair Brotchie; Atlas Press and Make Now Press, 2005), and My Life in CIA: A Chronicle of 1973 (Dalkey Archive Press, 2005).