Lincoln on War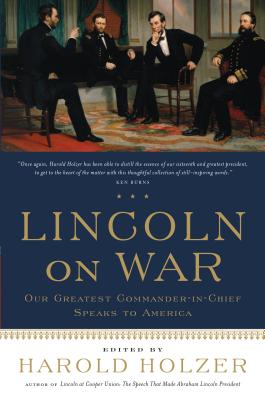 Lincoln on War
Algonquin Books of Chapel Hill, Hardcover, 9781565123786, 304pp.
Publication Date: April 12, 2011
* Individual store prices may vary.
Buy at Local Store
Enter your zip code below to purchase from an indie close to you.
or
Buy Here
Description
President Lincoln used his own weapons his words to fight the Civil War as brilliantly as any general who ever took the field. In "Lincoln on War," historian Harold Holzer gathers and interprets Lincoln's speeches, letters, memoranda, orders, telegrams, and casual remarks, organizing them chronologically and allowing readers to experience Lincoln's growth from an eager young Indian War officer to a middle-aged dove congressman to a surprisingly hardened and determined hawk as the Union's commander-in-chief.
We observe a man willing to sacrifice life and treasure in unprecedented quantities, to risk wounding the pride of vain generals, and even to mislead the public if it meant the preservation of an unbreakable union of states, the destruction of slavery, and the restoration of America as an example to inspire the world. This volume covers strategy; tactics; the endless hiring, sustaining, motivating, and dismissal of commanders; military discipline; and military technology. Modern commanders-in-chief have repeatedly quoted Lincoln to justify their own wars, so it behooves us as citizens to know Lincoln's record well. From masterpieces such as the Gettysburg Address to lesser-known meditations on God's purposes, "Lincoln on War" is the first book to highlight exclusively Lincoln's sublime and enduring words on war.
About the Author
ROY A. SITES, a native of Ohio, currently resides in the Tampa Bay area of Florida with his beautiful wife, Gail, and two cats - Ebony and Cali. They were both rescue animals. They are both spoiled. He is a life-long lover of the arts, literature and film. He is also an accomplished musician who performs regularly at venues throughout Central Florida. Roy is a Summa Cum Laude graduate of The University of South Florida. He received the King-O'Neal Medal in 1984, the University's highest award for academic excellence, for his work in the Honors Program in Psychology. He subsequently earned his Master of Liberal Arts degree through the Department of Humanities and taught at the University of South Florida for 5 years. Mr. Sites has a long standing interest in ancient, classical and medieval literature. His personal library of over 1000 volumes spans the years 3,000 B.C. to the present, with a heavy emphasis on ancient Greek and Roman literature, Early Church writings and Medieval European literature. He has spent a lifetime viewing, collecting and studying silent films. His Master's thesis, The Reconciliation of Space and Time in Pre-Griffith Cinema, is the foundation for an upcoming book on early film.

Harold Holzer, one of the country's leading authorities on Abraham Lincoln and the Civil War era, has more than forty books to his credit, including Father Abraham: Lincoln and His Sons and The President Is Shot!. He is a frequent guest on television, acted as a Content Consultant to the Steven Spielberg film Lincoln, and serves as chairman of the Lincoln Bicentennial Foundation. He lives in New York City.