Fowl Weather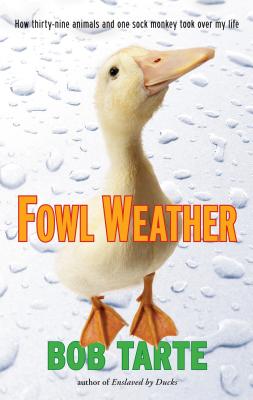 Fowl Weather
Algonquin Books of Chapel Hill, Hardcover, 9781565125025, 305pp.
Publication Date: March 16, 2007
* Individual store prices may vary.
Buy at Local Store
Enter your zip code below to purchase from an indie close to you.
or
Not Currently Available for Direct Purchase
Description
In Bob Tarte's home, pandemonium is the order of the day, and animals literally rule the roost thirty-nine of them at last count. Whether it's the knot-tying African grey parrot, or the overweight cat who's trained Bob to hold her water bowl just above the floor, or the nightmarish duck who challenges him to a shoving match, this menagerie, along with his endlessly optimistic wife, Linda, provides daily lessons on the chaos inherent in our lives. But not until this modern-day Noah's Ark hits stormy weather and Bob's world spins out of control does he realize that this exuberant gaggle of animals provides his spiritual anchor. It is their alien presence, their sense of humor, and their impulsive behavior that both drive Bob crazy and paradoxically return him to sanity.
With the same sly humor and dead-on character portraits that made "Enslaved by Ducks" such a rousing success, Tarte proves that life with animals offers a wholly different perspective on the world.
About the Author
Bob Tarte wrote for "The Beat" magazine for twenty years. He has also written for the "New York Times", the "Boston Globe", the "Miami New Times, " the "Whole Earth Review", and other publications. He hosts the "What Were You Thinking? "podcast for petliferadio.com. He and his wife Linda live in Lowell, Michigan, and currently serve the whims of parrots, ducks, geese, parakeets, a rabbit, doves, hens, one turkey, and way too many cats.