Stopping Spam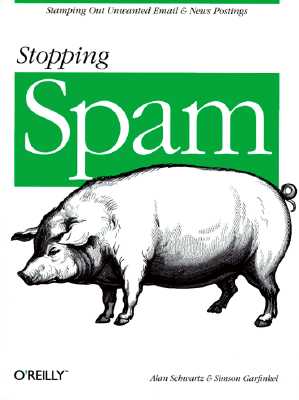 Stopping Spam
Stamping Out Unwanted Email and News Postings
O'Reilly Media, Paperback, 9781565923881, 201pp.
Publication Date: October 1, 1998
* Individual store prices may vary.
Not Currently Available for Direct Purchase
or
Shop Local
Enter your zip code below to purchase from an indie close to you.
Description
Schwartz explores spam--unwanted e-mail messages and inappropriate news articles--and what users can do to prevent it, stop it, or even outlaw it. "Stopping Spam" provides information of use to individual users (who don't want to be bothered by spam) and to system, news, mail, and network administrators (who are responsible for minimizing spam problems within their organizations or service providers).
About the Author
Simson Garfinkel, CISSP, is a journalist, entrepreneur, and international authority on computer security. Garfinkel is chief technology officer at Sandstorm Enterprises, a Boston-based firm that develops state-of-the-art computer security tools. Garfinkel is also a columnist for Technology Review Magazine and has written for more than 50 publications, including Computerworld, Forbes, and The New York Times. He is also the author of Database Nation; Web Security, Privacy, and Commerce; PGP: Pretty Good Privacy; and seven other books. Garfinkel earned a master's degree in journalism at Columbia University in 1988 and holds three undergraduate degrees from MIT. He is currently working on his doctorate at MIT's Laboratory for Computer Science.
Alan Schwartz, Ph.D. is an assistant professor of clinical decision making in the Departments of Medical Education and Pediatrics at the University of Illinois at Chicago. He is also the author of Managing Mailing Lists and the coauthor of Stopping Spam (both from O'Reilly). He serves as a consultant on Unix system administration for several ISPs. In his spare time, he develops and maintains the PennMUSH MUD server and brews beer and mead with his wife, with whom he also develops and maintains their son. Turn-ons for Alan include sailing, programming in Perl, playing duplicate bridge, and drinking Anchor Porter. Turn-offs include spam and watery American lagers.