The Secret Life of Saeed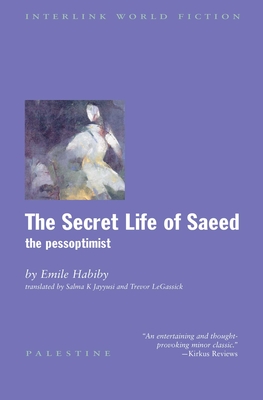 The Secret Life of Saeed
The Pessoptimist
Interlink Books, Paperback, 9781566564151, 169pp.
Publication Date: September 1, 2001
* Individual store prices may vary.
Buy at Local Store
Enter your zip code below to purchase from an indie close to you.
or
Buy Here
Description
This contemporary classic, the story of a Palestinian who becomes a citizen of Israel, combines fact and fantasy, tragedy and comedy. Saeed is the comic hero, the luckless fool, whose tale tells of aggression and resistance, terror and heroism, reason and loyalty that typify the hardships and struggles of Arabs in Israel. An informer for the Zionist state, his stupidity, candor, and cowardice make him more of a victim than a villain; but in a series of tragicomic episodes, he is gradually transformed from a disaster-haunted, gullible collaborator into a Palestinian -- no hero still, but a simple man intent on survival and, perhaps, happiness.

About the Author
Imil (Emile) Shukri Habibi (28 January 1922 - 2 May 1996) was a Palestinian writer and politician. Born in Haifa to a Protestant Palestinian Arab family (his family had originally been Arab Orthodox but converted to Protestantism due to disputes within the Orthodox church), he became one of the leaders of the Palestine Communist Party during the Mandate era. He supported the 1947 UN Partition Plan and chose to remain in Haifa until his death, despite it coming under Israeli control following the 1948 Arab-Israeli War. He served in the Knesset between 1951 and 1959, and again from 1961 until 1972, first as a member of Maki, before breaking away from the party with Tawfik Toubi to found Rakah. He left Rakah in 1989.



Salma Khadra Jayyusi is editor of Literature of Modern Arabia; Modern Arabic Poetry: An Anthology: and Modern Arabic Fiction: An Anthology.