You and Three Others Are Approaching a Lake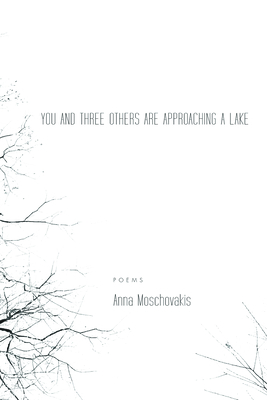 You and Three Others Are Approaching a Lake
Coffee House Press, Paperback, 9781566892506, 119pp.
Publication Date: January 18, 2011
* Individual store prices may vary.
Buy at Local Store
Enter your zip code below to purchase from an indie close to you.
or
Buy Here
Description
A sharp-witted investigation of love, work, and human responsibility in the age of consumption and hyperexposure.
About the Author
Anna Moschovakis is the author of "I Have Not Been Able to Get Through to Everyone, " a finalist for the Norma Farber First Book Award. The New York Review of Books and Seven Stories Press have published her translations of Albert Cossery, Georges Simenon and Annie Ernaux, and her poems have appeared in the "Brooklyn Rail, BOMB, Fence, Denver Quarterly, " and elsewhere. In 2009, she was selected for the Poetry Society of America's New American Poetry Series, which recognizes the most interesting recent first-book poets.

Raised in Los Angeles, Moschovakis studied philosophy at the University of California-Berkeley before turning to writing, and has worked a variety of jobs in restaurants, on film sets, at magazines, and in institutions of higher education. Currently she is a freelance editor, an active member of the nonprofit publishing collective Ugly Duckling Presse, and a visiting professor in the Writing program at Pratt Institute in Brooklyn.
Praise For You and Three Others Are Approaching a Lake…
2011 James Laughlin Award Winner (Poetry Society of America)
Coldfront's Top 30 Poetry Books of 2011

Anna Moschovakis boldly writes as though Plato had never kicked poets out of the Republic, and in You and Three Others Are Approaching a Lake, she takes up the citizen's task of thinking through political and existential issues relevant to lives lived in increasing dependence on internet access and globalization both. Her manner, however, resembles philosophy only in its reliance on a grammar of apparent objectivity: We start not with theory," she proclaims, but with tangible performance," with experience, magic/genuine science." Beneath their controlled and imperturbable surfaces, her poems perform the painful experience of the complicity with injustice that comes with citizenshipwhile lamenting colonization, opportunism, and capitalism, her poems search themselves for the common root of the urge toward empire, asking: is it more than you would have done?" At its most critical, this searching reveals the underbelly" of each of her many subjects: industry leads to waste, labor leads to boredom, wealth leads to guilt, and intimacy leads to misprision. But this ambitious and compassionate book also believesor hopesthat mindful attention to language might happily lead us elsewhere, toward other economies, other ways of being here together. One letter at a time we build relationships," Moschovakis declares, even though the letter is only a virtual letter and the labor, such as it is, is free."Brian Teare, The Academy of American Poets 2011 James Laughlin Award Citation

[You and Three Others Are Approaching a Lake] is easy-on-the-ear, accessible, wise, and funny, such as the observation that The island turned over / is a canoe,' as well as a series in which a human Anna tells her imaginary robot counterpart things like, human nature has changed since yesterday.' She takes on the big questions by way of unusual details."Bookforum

In the stark, analytical poems that make up You and Three Others Are Approaching a Lake, Moschovakis assualts materialism, waste, and the internet and repossesses elements of that culture in her poems Craigslist ads, Wikipedia articles, and MySpace posts in such a way that proves how demoralizing it can all be. . . . I enjoy and appreciate her philosophically bent poetry, her austere use of language, and the sense of violence that charges her poems."San Francisco Bay Guardian

Moschovakis shows us how it feels to want answers to certain kinds of questions, to see processes and seek causalities, and then get stuck in hermeneutic circles instead. . . . You and Three Others Are Approaching a Lake feels like a book of erasures and extracts: mysterious, haunted, terse."Stephen Burt, The Nation

A biting cultural study of our technological habits . . . a forced, and imperative, reconsideration of the world we inhabit and mindlessly exploit."Coldfront Magazine

You and Three Others Are Approaching a Lake is that rare book capable not only of giving its reader something new, but also of pointing out that which is so salient about our lives we no longer see it. With You and Three Others Are Approaching a Lake, Anna Moschovakis establishes herself as the T.S. Eliot of the Internet generation."H_NGM_N

Moschovakis' prizewinning second collection presents poems that are precise, yet surprising in the liberties they take, the paths they follow, the tangents they explore."Chronogram

Moschovakis has captured the essence of the poetic enterprise. . . . This is a tremendously exciting book that balances lyrical impulses, family stories, anthropological and historical realities, and metaphysical inclinations. The variety of forms; an astute sense of timing; restraint from excess juxtaposed with exuberance, where appropriate; and the forward motion of an original intelligence at work create an appealing, satisfying, and inspiring set of poems." New Pages

You and Three Others never loses focus of its concern with selves, and demonstrates a rare ability to speak convincingly about said selves through a complex web of modes that maintains a lyric voice while simultaneously critiquing the means that voice chooses. That Moschovakis is able to keep the emotional energy alive even as her poems remain unapologetically entranced with the ostensible anti-poetry of the systems she investigates is a contradiction that is as impressive as it is satisfying."Hot Metal Bridge

In her second book of poetry, Anna Moschovakis presents an engaging lyric analysis of the contemporary frameworks people live within. Ideas about choice (and indecisiveness), consumption, comfort, indulgence, and the evolution of collective vocabularies are explored, using the rhetoric of Internet-speak, ethics texts, historical anecdotes, and argument." American Poet

You and Three Others Are Approaching a Lake might be considered a journal or notebook of sorts, albeit one whose entries have been carefully fitted together so as to create resonances beyond the private, the explicitly political or the lyrical. . . . [T]he pleasure to be found in Moschovakis's poetry [is] the way she theorizes and reflects on the seemingly immeasurable movements of our broken era. In her books, poetry is enacted as a living, compassionate and dynamic process."Galatea Resurrects

If the title of Moschovakis's second collection reads like a textbook logic problem, it's because Moschovakis not only confronts her readers with a series of logical and philosophical dilemmas but also questions the possibility of such investigation. . . . Throughout the book, Moschovakis maintains a strongly clinical detachment even in the face of cultural crisis. Yet if it is cynicism that drives Moschovakis to inhabit structures of capitalism, technology, consumerism, Western philosophy, and religion, the assumption of these various positions nevertheless allows a necessary poetry of critique: her poems subject each of these structures to constant, and troubling, poetic pressure from within."Publishers Weekly

"Because I am only one reader approaching a lake, and for me, this lake is connected to noise and entanglements of vagus nerves angular and brightly lit, relentless as a sound of information, relentless as the precise and dynamic upturned canoe of information--"-The Rumpus