Leche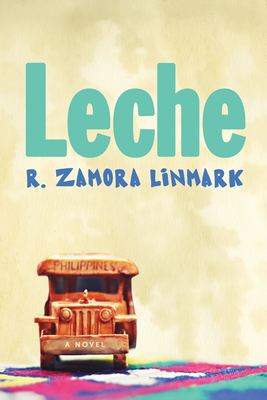 Leche
Coffee House Press, Paperback, 9781566892544, 280pp.
Publication Date: April 12, 2011
* Individual store prices may vary.
Buy Now
or
Shop Local
Enter your zip code below to purchase from an indie close to you.
Description
A young Filipino American's riotous adventures through the sprawling tragicomic landscape of modern-day Manila.
About the Author
R. Zamora Linmark is the author of Rolling The R's, Prime Time Apparitions, The Evolution of a Sigh, and Leche, sequel to Rolling The R's. A two-time Fulbright Scholar, he has received grants and fellowships from the U.S.-Japan Friendship Commission, National Endowment for the Arts, San Francisco Arts Commission, and twice from the Fulbright Foundation, in 1998, and as a Senior Scholar in 2005. His residencies include the Macdowell Colony, the Corporation of Yaddo, Virginia Center for the Creative Arts, and, most recently, Fundacion Valparaiso in Spain. He has taught at the U.C. Santa Cruz, De La Salle University in the Philippines, and most recently, at the University of Hawaii in Manoa where he was the Distinguished Visiting Writer. His writings can be found in many anthologies including Charlie Chan is Dead (edited by Jessica Hagedorn).
Praise For Leche…
One of Publishers Weekly's Top 100 Books of 2011


As quirky and funny as its oddball characters, Linmark's latest is a unique, colorful portrait of cross-cultural experience and a view into the complexities of modern-day Philippines through the prism of an ex-pat's self-discovery and quasi-homecoming."Publishers Weekly, starred review

[A]s cheeky a novel as you'll encounter. . . . the book's nonstop energy and nonstop attitude are addictive. And in Vince you won't find a less predictable tour guide. A lively satiric return to early 90s Manila, seen from both sides of the Filipino American divide."Kirkus Reviews

Linmark delivers a harrowing tale of love, family, and cultural bewilderment, a sardonically funny and vibrant novel about one man's journey to his past. . . . Linmark's novel reads like a bittersweet love letter to a vast and perplexing nation. This is a story of heritage, sexuality, and self-discovery that is as riveting as its locale is complex."Booklist

Linmark offers both a meditation on what it means to be Filipino and an exuberant, affectionate, irreverent love letter to the city of Manila from one of its own. . . . Linmark, who like Vince has lived in both Manila and Hawaii, develops a lively and engaging narrative voice as he skillfully juxtaposes these two very different cultures. . . . This is a jaunty, kaleidoscopic novel that amusingly chronicles the many challenges Vince faces moving between cultures. Recommended for readers of lighthearted literary fiction."Library Journal

At times uproariously funny, . . . Linmark weaves cultural and historical research into his story and employs a nonlinear structure to the narrative, including jumps in time, lists of Philippines travel tips," and postcards to and from Hawaii. . . . Above all, Linmark's writing is literary: heightened, emotional and beautifully crafted. Linmark began as a poet, and pays close attention to rhythm, economy and word choice, even in such a rollicking, gutsy story. It is a story that many people can relate to, but one that can only be told by a writer of his caliber."Honolulu Star Advertiser

The story examines culture-shock, modern-day gay life and the way things were in the early '90s, all with Linmark's sense of funny. Only this time, the narrative is in third person. Embedded within the book is a certain playfulness. Interspersed are Tourist Tips" for Manila, as well as postcards with photos that Vince writes to his friends back home. In short, Leche is all we've anticipated from Linmark."Honolulu Weekly

A whirlwind, whistle stop tour of Manila's high society, celebrity pop culture and seedy underbelly. . ."Bookmunch

This time around, Linmark uses his trademark po-mo fragmentation for surface texture; it compromises the novel's picaresque forward motion not a whit. This is a languageand a Manila that should be familiar to readers of the Asian American canon, and Leche feels like the long-awaited completion of something we didn't know was incomplete."Hyphen

"R. Zamora Linmark writes with the incandescent irreverence of a papal heretic, with the poetic and chaotic sense that only the Philippines can bestow, with the language of a sainted seer all held together with an elegant craft and a graceful style. Leche is a beautiful book." Chris Abani, author of GraceLand and Virgin of Flames

"Leche is a combustible comedy, a nightmare, a fever dream that with humor and horror somehow captures the fractured Philippine identity. Eye opening, hilarious, and relentlessly seductive, Zamora Linmark holds the reader until the very last page." Sabina Murray, author of Forgery and The Caprices