Sleight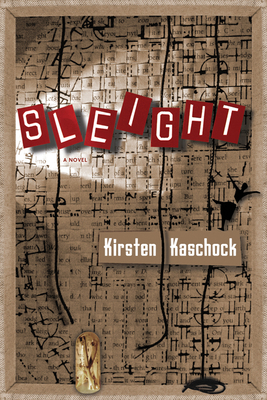 Sleight
Coffee House Press, Paperback, 9781566892759, 286pp.
Publication Date: September 20, 2011
* Individual store prices may vary.
Buy Now
or
Shop Local
Enter your zip code below to purchase from an indie close to you.
Description
Glass Bead Game meets Black Swan.
About the Author
Kirsten Kaschock is currently a doctoral fellow in dance at Temple University. Her first book of poetry, UNFATHOMS, was published by Slope Editions.
Praise For Sleight…
Kaschock . . . weaves a tight story. Her inventive, fragmented style scrambles subjects and objects to squeeze the inner world of artistic process onto the page. . . . Sleight is a disgorged dream, painstakingly crystallized; when it ends, you'll want tickets to the show."The Philadelphia Inquirer

An unusual, dreamlike tale. . . . Gothic and intense, this fully imagined yet partly private work of storytelling [is]. . . . powerfully original."Kirkus Reviews

Kaschock is a sensitive writer, with an uncanny empathy for her charactersparticularly when dealing with the limits of the body. . . . [A] moving portrait of mental illness, of sibling love and rivalry, and above all, of the destructive power of great art over its performers."Barnes & Noble Review

Absorbing. . . . Kaschock's stylized prose requires the reader to focus, to be drawn into her tale of the ways art can and cannot affect audiences and artists while seeking to reflect and redefine the world. . . . The book is not be taken lightly, but is worthy of being taken up."Cedar Rapids Gazette

A provocative debut . . . By transforming the unseen into the real, concepts become an unsettling reality. Always disorienting yet fascinating to watch unfold, Sleight provides a deep examination of art and those who engage with its ever-shifting presence."New Pages

There isn't anyone like any single one of us, but the way there is no one like Kirsten Kaschock is a different thing."Cheryl Strayed, The Rumpus

Kaschock's work stands out for the originality of its concepts, narrative structure, and, particularly, language, as the author redefines words in relation to her art and boldly breaks from traditional grammatical constructions. Kaschock's intimate knowledge of dance is an asset, helping her bring the sleight performers vividly to life. . . . Sleight is to the traditional fiction narrative what alternative music is to mainstream pop. Readers who enjoy the challenge of an innovative, unconventional style will take pleasure in this selection."Library Journal

Sleight is either disturbingly enjoyable or enjoyably disturbing--I can't decide which. What's certain is that Kirsten Kaschock is a wildly talented writer. You should read this book." Adam Levin, author of The Instructions

Sleight features startlingly innovative storytelling, and is as fascinating as it is disturbing."David Gutowski, Largehearted Boy

"I love this book. It is an acutely literary sci-fi rhapsody about inter-dimensional dance, and the tortured relationships between the dancers. It is also a subtle critique of our age. Kaschock accurately replicates our societal anxieties our inexpressible longings, our blind spots, our terrors, both holy and profane, and even, thank God, our joys. The novel's language hums like a Buddhist gong, and the characters are at the same time sublimely mythic and frighteningly real, almost palpable. There is genuine magic in her novel."Reginald McKnight

With grace and whip-smart wit, Kirsten Kaschock is a gift from the gods of young talent."Mary Karr

"[T]he novel is by turns intriguing, mysterious, and lovely, much like the art of sleight."Puerto Del Sol