The Last Warner Woman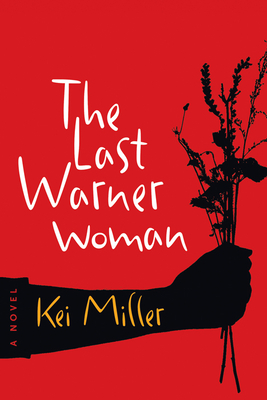 The Last Warner Woman
Coffee House Press, Paperback, 9781566892957, 256pp.
Publication Date: March 27, 2012
* Individual store prices may vary.
Buy at Local Store
Enter your zip code below to purchase from an indie close to you.
or
Buy Here
Description
The American debut of a Caribbean literary talent often compared to Orange Prize winner Andrea Levy and Alexander McCall Smith.
About the Author
Born in Kingston, Jamaica, in 1978, Kei Miller is the author of "The Same Earth," winner of the Una Marson Prize for Literature, and "Fear of Stones," which was shortlisted for the Commonwealth Writers' Prize for Best First Book. His most recent poetry collection has been shortlisted for the Jonathan Llewelyn Rhys Prize, the Bocas Prize for Caribbean Literature, and the Scottish Book of the Year Award. In 2008, Miller was an International Writing Fellow at the University of Iowa. Miller currently divides his time between Jamaica and Scotland.
Praise For The Last Warner Woman…
" . . . emotionally absorbing . . ."O, The Oprah Magazine, Top Ten Titles To Pick Up Now

"Mysticism, magic, tragedy and second changes figure largely in Kei Miller's The Last Warner Woman; heroine Adamine Bustamante is born with a magical skill in a Jamaican leper colony and moves to London, where her gift is not always welcomed."EBONY, Quick and Good Books Section

This is a deceptive spellbinder, a metafiction so disguised as old-time storytelling that you can almost hear the crackle of home fire as it starts. But then it gets you with twists and turns, seduces and shocks you even as it wrestles with the very nature of storytelling itself. Like the best Jean Rhys novel it's the story of women haunted by women, and of the dangers of both keeping secrets and saying too much."Marlon James

Beautifully imaginative and structurally inventive. . . . Miller's narrative alternates between Adamine's first-person account, told in a colorful and soul-baring patois, and sections recounted, mostly in the third person, by Mr. Writer Man. The two viewpoints at times conflict in illuminating ways, but Mr. Writer Man's reflections on truth, history and literature pale next to the plot's more immediate concerns: spirituality, violence against women, and migration, to name a few." Publishers Weekly

Wonderfully weaving together realism and fantasy . . . [Miller] shows us that magic is inherent in humanity. . . . Perhaps Miller's greatest feat is the incorporation of the decorous yet often unused second person; sparingly used, it draws in the audience and demonstrates the special relationship between Adamine and Mr. Writer Man as well as the relationship between Miller and his readers. This poetic and enchanting work will appeal to readers of Caribbean literature and literary fiction."Library Journal

"[The Last Warner Woman] is about the inconsistencies between what we say, what we hear, and what we do with what we say and hear. . . . Miller portrays intriguing characters with perfect pitch in both narrative nuance and Adamine's colorful patter."Booklist

"Miller's well-crafted prose and the originality of his subject make this an entirely gratifying novel. I didn't want to stop reading: from the very first sentence I was fascinated and knew that I was in the hands of a gifted writer. In the finely portrayed characters of Pearline and Adamine and the vivid details of the rural setting Kei Miller illuminates and gives voice to a neglected piece of Jamaican and, indeed, human history. In addition, the skillfully handled shift in voices, the presence of " Mr. Writer Man," the poignant displacement of Adamine and the narrative's resonant movement between the Caribbean and England combine to make this a notable addition to the postcolonial literary tradition, a work reminiscent of Jean Rhys and George Lamming. This novel is a rare pearl, one that I will cherish and delight in for a long time." Margaret Cezair-Thompson

A novel for those who are prepared to be teased, willing to roll their tongues around the colorful
patois and willing to suspend disbelief, relinquishing their need for things to turn out as they
ought to, in exchange for exploring things as they might be." Scotland on Sunday

Miller isn't just a writer . . . he is a true alchemist, and he has produced a thing of beauty here."
Herald (UK)

"The Last Warner Woman is a 'splendocious' story, told 'crossways.' . . . Miller, who is also a poet, circles around his truths, teases out just-right words to hint at elusive meanings, and ends the novel by acknowledging that in every book 'the story within breathes its own breath.' [W]onderfully evocative images and Jamaican words dot Miller's mesmerizing novel, which enthralls, even as it confronts its readers." The Star Tribune

"To enter the dream of this story is to get caught up in a wonderful web."NewPages

"Miller handles these various narrators with finesse by maintaining a firm grasp on their voices; he knows his characters well, and like a Warner, their messages boom forth clearly. . . . And magically, despite the repetition and the misery and hardship within, you're compelled to stand beside the characters throughout because each voice is real and present, each take honest in its own way." Baltimore City Paper

"The Last Warner Woman features compelling settings, masterful storytellers, a mystery, colorful characters, and language that resonates with beauty." World Literature Today

"The Last Warner Woman ranks as one of the best things I've read so far this year. It had drama, intrigue, characters to love, characters to hate." Insatiable Book Sluts