Boarded Windows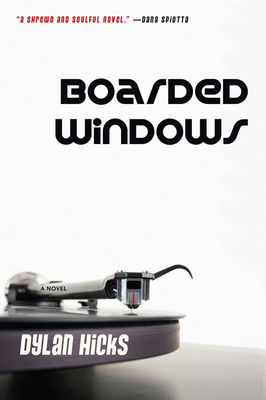 Boarded Windows
Coffee House Press, Paperback, 9781566892971, 252pp.
Publication Date: April 24, 2012
* Individual store prices may vary.
Buy at Local Store
Enter your zip code below to purchase from an indie close to you.
or
Buy Here
Description
Almost Famous meets Portnoy's Complaint: A record store clerk in search of his origins confronts his con-man father figure.
About the Author
Dylan Hicks is a songwriter, musician, and writer. His work has appeared in the "Village Voice, New York Times, Star Tribune, City Pages, " and "Rain Taxi," and he has released three albums under his own name. A fourth, "Sings Bolling Greene," is a companion album to this novel and will be released in May 2012. He lives in Minneapolis with his wife, Nina Hale, and his son, Jackson. This is his first novel.
Praise For Boarded Windows…
"[N]uanced with fluid prose and a pensive, melancholy undercurrent..."Publishers Weekly

"This novel calls into question the notion of truth and asks to whom one's story really belongs . . . it is rife with humans desperate for connection, for finding their place in this enigmatic world."ForeWord

"Boarded Windows is a contemporary orphan story singing the music and mood of America's counterculture."Twin Cities Metro Magazine

"Boarded Windows is a shrewd and soulful novel. References (high and low, familiar and obscure) abound in this eloquent and unusual story of not-quite innocence lost. Hicks uses his intimate knowledge of American music to give us a precise portrait of Wade Salem, a self-taught, fast-talking half-genius." Dana Spiotta, author of Stone Arabia and Eat the Document

Do yourself a favor and read this smart, tender book. The characters will haunt you with their longing, and inspire you with their sweet, caustic wit. Dylan Hicks knows his music and his prose is a song in itself. He's given light to the shuttered and boarded parts of life." Sam Lipsyte

As a novel, Dylan Hicks's Boarded Windows takes a sly, questioning, sidelong glance that keeps both the narrator and his listenersbecause this novel is whispered, confided, mused, as much as it is writtencontinually off balance. As a work of American iconography, it's a continually hilarious, hopes-dashed account of an indelible American character: the con man." Greil Marcus

Boarded Windows is a luminous novel about love and loss. Written with wit, profundity, and compassion, Dylan Hicks's debut delights in language and music and the joys of being alive. This is a deeply moving book that announces a major talent in American fiction." Samantha Gillison

"[Boarded Windows is] a rock'n'roll story couched in Proustian delicacy, a Beat reconfiguring of the family that moves towards pomo deconstruction of any reliable relationshipand withal, a hybrid of highly pleasing shape." Bookforum

"[H]ick's narrator . . . has a charm and appeal all his own. With each scene and sentence, he is forever trying to capture the truth of the moment. [T]his constant searching and second guessing . . . makes the narrator all at once alluring, lonely, and naïve, which is perhaps what makes this novel such an apt portrait of the early 1990s." City Pages

"Dylan Hicks, author, freelance writer, and musician, has crafted a novel rich with multi-faceted characters and layer upon layer of the characters' personal histories." Hazel and Wren

"Hicks is a terrific writer who can craft a simile with the best of them."Kirkus

"It's own thing to find your own voice, it's another to create your own language, and I think that's what Dylan does." Greil Marcus

"[T]his book is not merely a postmodern exercise in notions of truth, nor is it merely funny and intelligent; it is fundamentally a sincere and heartbreaking tale of loneliness, a man who comes to realize that the windows in his life, home, and family are inherently boarded up." Brooklyn Rail

Pop-music references pepper the pages of Hicks' ambitious debut about the prickly relationship between a father and son. . . . with polished prose that is witty and smart." Booklist

Evident in Hicks' writing is a sense of inevitability that would've garnered a thumbs-up from Flannery O'Connor. The sirens of unavoidable heartbreak sound throughout this book, not quite drowned out by all the music and erudite chatter, and you can't help but want to stick around to watch the storm roll in." MPR's 89.3 The Current Local Blog

"The novel is a carnival ride of amusing, sad narrativespeople telling people the stories of their lives. The problem lies in deciding which of these many stories to believe, determining how and where the source material has been polluted, corrupted, and distorted through time." MNartists.org

"The joy in Hicks' debut arises less from plot than from the writing itself: nuanced, ingenious, perceptive, funny. Music plays a role, but doesn't dominate. A heartfelt sadness settles over the last 50 pages like a classic alt-country tune." The Minneapolis Star Tribune

"This was a pretty amazing novelan unapologetically intelligent and cringe-inducingly intimate take on Midwestern hipster culture, armed with a dizzying array of references to art, literature, criticism, and of course music." Bookslut

"Reading Hicks' debut novel is not so much like reading a novel as it is like peering into someone else's soul. . . . It's more an exploration of memory than it is of relationshipwith dizzying forays into country music, jazz, erotica and Plato. Try to keep up, will you? You will be rewarded."The Examiner

"Boarded Windows is a stellar work of fiction, not to mention a stellar work on." -Los Angeles Review of Books