Mixing It Up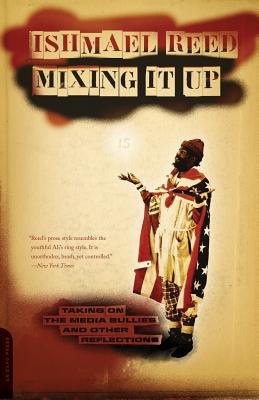 Mixing It Up
Taking on the Media Bullies and Other Reflections
Da Capo Press, Paperback, 9781568583396, 306pp.
Publication Date: July 2008
* Individual store prices may vary.
Buy Now
or
Shop Local
Enter your zip code below to purchase from an indie close to you.
Description
A new collection of essays first published in The New York Times and Playboy. Reed tackles subjects including Oakland, eugenics, and domestic violence,
About the Author
Ishmael Reed is the author of over twenty-five books including Mumbo Jumbo, The Last Days of Louisiana Red, Yellow Back Radio Broke-Down and Juice!. He is also a publisher, television producer, songwriter, radio and television commentator, lecturer, and has long been devoted to exploring an alternative black aesthetic: the trickster tradition, or Neo-Hoodooism as he calls it. Founder of the Before Columbus Foundation, he taught at the University of California, Berkeley for over thirty years, retiring in 2005. In 2003, he received the coveted Otto Award for political theater.
Praise For Mixing It Up…
Rain Taxi, Winter issue
"Ishmael Reed's writing is a nearly irresistible force. Anyone who wants to read Reed seriously had better come prepared with facts, an open mind, and perhaps even a seatbelt…An adept mix of documentation and outrage shapes most of the pieces…[Reed's] observations come in many registers, from the strident to the cool…In his ability to pull the comfortable rug out from under his readers and make us aspire to a higher ground of understanding, Reed is one of our most essential and irreplaceable voices."


Magill Book Reviews
"Perceptive essays about social issues and media missteps, reminding readers why he is a provocative, respected writer, and thinker. It is tempting to compare Ishmael Reed to voices as varied as Mark Twain, Paul Robeson, or Susan Sontag, but that is incomplete and unfair to Reed. He is distinctive and fresh in his own right…This collection is less about race than sense…Spirited and bold throughout, never failing to enlighten…As an anthology, it is a treasure."


Multicultural Review, Winter 2009
"[Reed's] voice…is incisive. He is smart, the book is well researched, and his arguments are compelling…His coverage of American race relations links culture, economics, and history in surprising ways…This collection of essays is appropriate and necessary for high school level readers and should become canonical text for every American Studies program in the United States."