The Silence and the Scorpion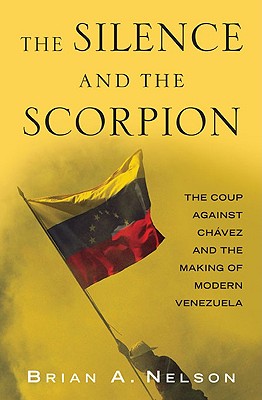 The Silence and the Scorpion
The Coup Against Chavez and the Making of Modern Venezuela
Nation Books, Hardcover, 9781568584188, 384pp.
Publication Date: May 1, 2009
* Individual store prices may vary.
Not Currently Available for Direct Purchase
or
Shop Local
Enter your zip code below to purchase from an indie close to you.
Description
A dramatic retelling of how the 2002 uprising against Hugo Chavez evolved into a violent struggle for the soul of Venezuela and control of its most precious commodity, oil
About the Author
Brian A. Nelson's work has appeared in the Virginia Quarterly Review, the Christian Science Monitor, and other publications. He teaches at the Center for American and World Cultures at Miami University in Oxford, Ohio, where he lives.
Praise For The Silence and the Scorpion…
Named one of the "Books of the Year" 2009 by The Economist

"…superbly researched…"
"…a compelling narrative…"
"…scrupulously unbiased…"
"It should be read by all those who continue to believe that Mr. Chávez is a worthy champion of democracy and the oppressed." —The Economist

"…refreshingly impartial and objective…"
"The 2002 coup gives the author a good handle to employ his impressive investigative and storytelling talents, and he succeeds in shedding new light on the complex questions facing Latin America's most polarize society."
"…a welcome contribution to the burgeoning literature on Venezuela under the controversial rule of Hugo Chavez." —America Magazine

"The events of the April 2002 Venezuelan coup to oust President Hugo Chavez are brought to light here in unparalleled investigative reporting by Nelson…"
"His fascinating and harrowing account is part documentary, part eyewitness to history, yet always riveting."
"At times reading like fiction, his enjoyable text is the definitive account of Chavez's ouster and return, devoid of loyal or opposition rhetoric."
"Highly recommended." —Library Journal

"fast-paced" & "engaging" —Kirkus

"Nelson takes readers from the streets to the halls of the presidential palace, from frightened journalists smuggling tapes of riots back to their stations to be put on the air to a terrified Chávez. …[H]is status as a foreigner familiar with the culture of Caracas and an experienced journalist and academic gives him a unique vantage point from which to tell the very personal stories of those three days of chaos." —Publishers Weekly

"…a must read for anyone seeking to get an unbiased and comprehensive account of the two most controversial days of the Chávez presidency."
"Nelson treats the April 11th events with hard-earned restraint, fairness, and an absence of the kind of confrontation and anger that has come to characterize the political debate in Venezuela." —Huffington Post

"…very readable, providing wonderfully detailed firsthand accounts of the coup."
—NACLA Report on the Americas

"…an enthralling read…shot through with vivid details and strewn with telling and yet all-but-forgotten pieces of the April Puzzle." —Caracas Chronicles

"Mr. Nelson…dashes Chavez's loud claim that the CIA fomented the popular uprising. The CIA station in Caracas indeed informed Washington of what was brewing - an accepted intelligence function. … The 2002 attempt failed. Will a more effective resistance ultimately upend Chavez's dictatorship? Stay tuned; this saga is far from over." —Washington Times

""Nelson has given us a case study that brings politics alive. His is an audacious and successful attempt to sort out important political events in their immediacy rather than from a safe distance.... in an effort to draw persons and events vividly, [Nelson] uses narrative devices common to fiction, like interior monologue; and reconstructed dialogue à la Bob Woodward....readers will appreciate his accomplishment." —Current History