The 100 Greatest Americans of the 20th Century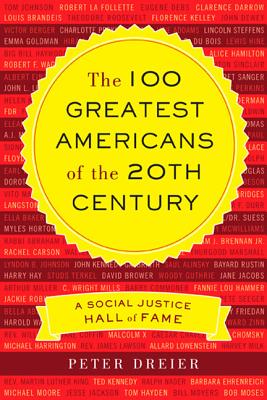 The 100 Greatest Americans of the 20th Century
A Social Justice Hall of Fame
Nation Books, Paperback, 9781568586816, 512pp.
Publication Date: June 2012
* Individual store prices may vary.
Shop Local
Enter your zip code below to find indies closest to you.
Description
A hundred years ago, any soapbox orator who called for women's suffrage, laws protecting the environment, an end to lynching, or a federal minimum wage was considered a utopian dreamer or a dangerous socialist. Now we take these ideas for granted because the radical ideas of one generation are often the common sense of the next. We all stand on the shoulders of earlier generations of radicals and reformers who challenged the status quo of their day.
Unfortunately, most Americans know little of this progressive history. It isn't taught in most high schools. You can't find it on the major television networks. In popular media, the most persistent interpreter of America's radical past is Glenn Beck, who teaches viewers a wildly inaccurate history of unions, civil rights, and the American Left.
The 100 Greatest Americans of the 20th Century, a colorful and witty history of the most influential progressive leaders of the twentieth century and beyond, is the perfect antidote.
About the Author
Peter Dreier is the E. P. Clapp Distinguished Professor of Politics and director of the Urban and Environmental Policy Department at Occidental College. He formerly served as director of housing for the Boston Redevelopment Authority and as senior policy advisor to Boston Mayor Ray Flynn. In 1993, the Clinton administration appointed him to the Advisory Board of the Resolution Trust Corporation, the savings-and-loan clean-up agency. Among his coauthored books are The 100 Greatest Americans of the 20th Century: A Social Justice Hall of Fame (2012), The Next Los Angeles: The Struggle for a Livable City (2006), and Place Matters: Metropolitics for the 21st Century (2001).
Praise For The 100 Greatest Americans of the 20th Century…
"Crisp, snappy bios of important progressive Americans in recent history. . . . A provocative collection that includes a timeline and a roster of up-and-coming contenders for a new century already showing signs of progress."
—
Kirkus Reviews
 "A compelling narrative of the major social justice movements of the United States and the ways that high ideals are transformed into action. I've found myself caught up in the sweep of history the book encompasses and in the richness of the details embedded in each story. Terrific reading."—
Jonathan Kozol
 "A great collection of gripping stories. A book you won't want to put down."—
Frances Fox Piven
 "Peter Dreier's superb book is a timely and heartening reminder that America's most valuable citizens were resolute and inventive progressives. A wonderfully written antidote to this decade's choice between centrism and defeatism."—
Robert Kuttner
 "Skillfully crafted... a call to action for our generation and the next."—
Nelson Lichtenstein, MacArthur Foundation Chair in History, University of California, Santa Barbara