State Out of the Union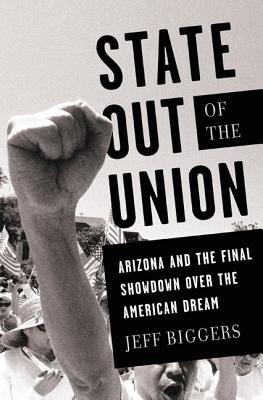 State Out of the Union
Arizona and the Final Showdown Over the American Dream
Nation Books, Hardcover, 9781568587028, 277pp.
Publication Date: September 25, 2012
* Individual store prices may vary.
Buy at Local Store
Enter your zip code below to purchase from an indie close to you.
or
Buy Here
Description
Arizona has gone wild—over immigration, guns, healthcare, the Tea Party, and vigilantism. Award-winning author and Arizona local Jeff Biggers reports on what's troubling our 48th state, and how a radicalized Arizona has become a national bellwether.
About the Author
<div>The Sierra Madre--no other mountain range in the world possesses such a ring of intrigue. <i>In the Sierra Madre</i> is a groundbreaking and extraordinary memoir that chronicles the astonishing history of one of the most famous, yet unknown, regions in the world. Based on his one-year sojourn among the Raramuri/Tarahumara, award-winning journalist Jeff Biggers offers a rare look into the ways of the most resilient indigenous culture in the Americas, the exploits of Mexican mountaineers, and the fascinating parade of argonauts and accidental travelers that has journeyed into the Sierra Madre over centuries. From African explorers, Bohemian friars, Confederate and Irish war deserters, French poets, Boer and Russian commandos, Apache and Mennonite communities, bewildered archaeologists, addled writers, and legendary characters including Antonin Artaud, B. Traven, Sergei Eisenstein, George Patton, Geronimo, and Pancho Villa, Biggers uncovers the remarkable treasures of the Sierra Madre.</div>
Praise For State Out of the Union…
Kirkus Review
"The author is masterful at showing how the past is prologue…A timely book, especially with immigration policy playing a major role in the upcoming presidential campaign."

Publishers Weekly, Top Ten Social Science Titles, 2012
"Perhaps no issue captures better what it means to be American than the contentious legislative debate around who can become American. Certainly, that question will be a major part of the November election, and into the fray comes an examination of the controversial policies and practices in Arizona. State Out of the Union: Arizona and the Final Showdown Over the American Dream by Jeff Biggers."

Luis Urrea, author of The Devil's Highway, The Hummingbird's Daughter
"Jeff Biggers has the unblinking gaze of the honed journalist, a novelist's sense of image and story, and a prophet's cache of outrage. He stands in my very short list of American literary heroes. With his new book, Biggers shows us he can write anything–and do it well. His aim is true."

Publishers Weekly
"Arizona's nativist Right gets pilloried in this feisty, very partisan chronicle of the state's immigration politics."