The Watcher in the Pine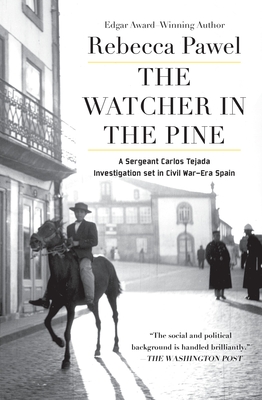 The Watcher in the Pine
Soho Press, Paperback, 9781569474099, 308pp.
Publication Date: February 1, 2006
* Individual store prices may vary.
Buy Now
or
Shop Local
Enter your zip code below to purchase from an indie close to you.
Description
The Edgar-winning author tells her story in spare prose, befitting the bleakness of the political and physical landscape. . . . The richness of historical detail and the loving but uneasy relationship between Tejada and Elena offer their own rewards to the reader. "Denver Post"
The hostilities are never over in the mournful mysteries that Rebecca Pawel sets in the devastated cities of Spain in the aftermath of the civil war. . . . Pawel frames the complex ethical issues she raises in the divided loyalties of her series hero . . . and his wife, Elena, whose sympathies are entirely with the Republican cause. Until the family wounds are healed, Pawel argues, the war will never end. "The New York Times Book Review"
Equal parts history lesson and crime novel, displaying both offhand cruelty and welcome depth. "Kirkus Reviews"
Spain, 1940. Potes, a remote northern mountain village, is Carlos Tejada's first independent Guardia Civil command. He soon discovers that this promotion is a mixed blessing. The villagers are unwelcoming. He and his pregnant wife, Elena, have no place to live but the jail, and his own men seem strangely hostile. Is it just their suspicion of his wife's Republican sympathies? Or is there more going on in the beautiful but bleak area, recently devastated by the civil war? Tejada discovers that there may, indeed, be a new outbreak of that war with Potes as its epicenter. And he must find a way to reconcile his love for his wife with his duty.
About the Author
Rebecca Pawel is twenty-eight years old and a graduate of Columbia University. She lives in New York City and teaches Spanish and English in a Brooklyn high school. She is the author of Death of a Nationalist, Law of Return, and The Watcher in the Pine. Rebecca frequently travels to Spain.