How Evan Broke His Head and Other Secrets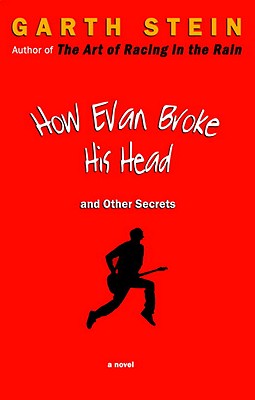 How Evan Broke His Head and Other Secrets
Soho Press, Paperback, 9781569474983, 359pp.
Publication Date: May 2008
* Individual store prices may vary.
Shop Local
Enter your zip code below to find indies closest to you.
Description
"Funny, bewitching, observant."—The Oregonian

"Hits all the frets of a powerful story: sharp-witted dialogue, vivid characters, insight into medical challenges and prose that snaps like well-placed plucks of guitar strings. . . . I hold up my lighter and turn it full-flame for [Garth] Stein's latest work. Encore!"—The Seattle Times

"Compelling."—Seattle Post-Intelligencer

"Stein handles the many narrative elements deftly."—Seattle Weekly

"An engrossing family drama."—Publishers Weekly

Evan had a hit single, but that was ten years ago. Thirty-one now, he's drifting, playing in a local band and teaching middle-aged men to coax music from an electric guitar.

Beset at a young age with a life-threatening form of epilepsy, he's kept his condition a secret. But his deepest secret is that he got his high school sweetheart pregnant. Then her conservative parents whisked her out of Seattle and out of Evan's life.

Now, fourteen years later, he experiences unplanned parenthood when he undertakes to raise the resentful teenage son he's never known.

Off beat and disarming, How Evan Broke His Head and Other Secrets portrays a contemporary American family with unfailing honesty.
About the Author
Garth Stein is the author of three novels, including the New York Times bestseller The Art of Racing in the Rain and How Evan Broke His Head and Other Secrets, and a play, Brother Jones. He has worked as a documentary filmmaker, and he lives in Seattle with his family.
Praise For How Evan Broke His Head and Other Secrets…
Praise for How Evan Broke His Head

A BookSense pick *  Winner of a Pacific Northwest Bookseller Award

"A funny, bewitching, observant book about families, fathers and sons, and growing up, no matter how old you are."
—The Oregonian
 
"A beautifully un-shiny novel of passion, forgiveness and the life force that is fatherhood."
—PNBA Awards Committee
 
"Captivating, moving, and always observant ... a wonderful, beautiful book; I will never forget it!"
—Ben Sherwood, author of The Death and Life of Charlie St. Cloud
 
"A compelling tale."
—Seattle Post-Intelligencer
 
"An engrossing family drama."
—Publishers Weekly
 
"Hits all the frets of a powerful story: sharp-witted dialogue, vivid characters, insight into medical challenges and prose that snaps like well-placed plucks of guitar strings. . . . I hold up my lighter and turn it full-flame for Stein's latest work. Encore!"
—The Seattle Times