The Night Birds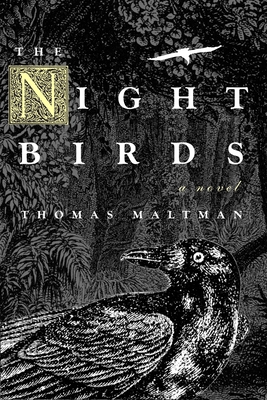 The Night Birds
Soho Press, Paperback, 9781569475027, 372pp.
Publication Date: May 1, 2008
* Individual store prices may vary.
Buy at Local Store
Enter your zip code below to purchase from an indie close to you.
or
Buy Here
Description
The intertwining story of three generations of German immigrants to the Midwest--their clashes with slaveholders, the Dakota uprising and its aftermath--is seen through the eyes of young Asa Senger, named for an uncle killed by an Indian friend. It is the unexpected appearance of Asa's aunt Hazel, institutionalized since shortly after the mass hangings of thirty-eight Dakota warriors in Mankato in 1862, that reveals to him that the past is as close as his own heartbeat.
About the Author
Thomas Maltman's essays, poetry, and fiction have been published in many literary journals. He has an MFA from Minnesota State University, Mankato and he lives in the Twin Cities. His first novel, The Night Birds, won several national awards, including an Alex Award, a Spur Award, and the Friends of American Writers Literary Award. In 2009 the American Library Association chose The Night Birds as an "Outstanding Book for the College Bound." His most recent novel, Little Wolves, is also published by Soho.
Praise For The Night Birds…
PRAISE FOR THE NIGHT BIRDS

*Alex Award Winner*
 
"We all set our sights on the Great American Novel. . . . [Thomas Maltman] comes impressively close to laying his hands on the grail."
—Boston Globe, Madison Smartt Bell
 
"Thomas Maltman's debut novel, The Night Birds, soars and sings like a feathered angel."
—Chicago Sun-Times

"Maltman's prose and pacing flow from an expert hand. . . . His gaze is unflinching and balanced. . . . And while there is much loss in the novel, in the end there is salvation."
—Denver Post, Robin Vidimos

"Maltman's writing is most lucid when he explores the German folklore, Dakota mysticism, and pioneer spirituality that shape his characters' understanding of their own harsh world."
—Entertainment Weekly 

"[Maltman] excels at giving even his most harrowing scenes an understated realism and at painting characters who are richly, sometimes disturbingly human. The novel sustains its tension right to the moment it ends."
—Publishers Weekly, STARRED REVIEW

"[A] flawless sense of history marked by its most revealing—and harrowing—details."
—Booklist 

PRAISE FOR LITTLE WOLVES

"Here's one I'll recommend—Tom Maltman's written an ambitious mythic thriller that hums with energy and portent. Set under brooding prairie skies, Little Wolves has modern psychoses and generational wickedness, ravening devils and uneasy saints. It shifts and dodges like wind, and it rings with conviction and confidence. What more can a reader ask?"
—Leif Enger, author of Peace Like a River and So Brave, Young, and Handsome

"A masterwork of fiction. Not just a good book that's interesting on multiple levels, but a great book that will stand the test of time...I was completely spellbound. Add to this the mysteries surrounding the town and characters, and I felt, often, as though I were reading some contemporary version of Dostoyevsky."
—Peter Geye, author of Safe From The Sea

"A complicated portrait of a prairie town, a meditation on violence, a fantasia of myth and folklore, and a knockout murder mystery, Little Wolves is haunting, at times terrifying, a gothic cousin to Kent Haruf's Plainsong. I loved this book."
—Benjamin Percy, author of Red Moon, The Wilding and Refresh, Refresh

"Little Wolves weaves the lives of a father, a son, a pastor's wife, and a community in this compelling mystery of murder and secrets. His brilliant use of historical and mythical elements are combined with everyday life in ways that are hair-raising and true. Maltman has a gift for framing unforgettable characters. Everything about this book asks us to examine life more closely." 
—Elizabeth Cox, Author of The Slow Moon

"This novel churns with the tension of a building prairie thunderstorm. Tom Maltman knows that dark truths can be hidden under open skies, and he knows the secrets of the bloodstained ax in the barn."
—John Reimringer, author of Vestments

"The poetry of this prose and the suspense of the plot, along with the intensity of characterization will have many readers comparing Thomas Maltman to Cormac McCarthy—that greatest of compliments—for very good reason. This novel is a work of high art by the real thing."
—Laura Kasischke, author of Space, in Chains and The Life Before Her Eyes

"Absolutely fantastic. Unnerving, gorgeously written.... The writing is haunting."
—Caroline Leavitt, author of Pictures of You

"Took my breath away.... as rich in myth and metaphors as Cormac McCarthy's "The Road.'"
—Milwaukee Journal-Sentinel

"Part allegory, part mystery and pure poetry, layered with Norse mythology and Anglo Saxon narratives, Maltman's second novel is dark, redemptive and very beautiful."
—Minneapolis Star-Tribune

"Powerful...skillfully evoked"
—Publishers Weekly
 
"Smart thrills."
—Library Journal
 
"Maltman makes his leading characters so sensitive that you may shudder at the same revelations that so appall them."
—Kirkus

"Layered with literary and mythic allusions.... A satisfying and unforgettable read."
—School Library Journal

"So good, you'll forget about icy sidewalks and a dead battery...Magical story, magical writing."
—Twin Cities Pioneer Press

"Little Wolves is beautifully written, both in the style of prose and pacing of the narrative."
—Grand Rapids Herald-Review
  
"In gorgeous prose, Maltman conjures both the irrational suspicion and the heartwarming connections forged in a small town during times of trauma."
—Booklist

"Little Wolves is reminiscent of Kent Haruf's Plainsong, but grittier...a great read with loads of literary merit."
—BookSquawk

"Saturated with violence, Anglo-Saxon mythology and parochial pettiness, Maltman's novel is an unsettling work of first-rate fiction."
—Shelf-Awareness