Rock Paper Tiger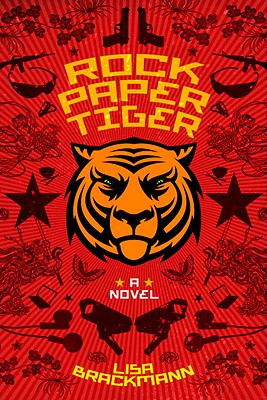 Rock Paper Tiger
Soho Press, Hardcover, 9781569476406, 345pp.
Publication Date: June 1, 2010
* Individual store prices may vary.
Buy at Local Store
Enter your zip code below to purchase from an indie close to you.
or
Not Currently Available for Direct Purchase
Description
American Iraq War veteran Ellie Cooper is down and out in Beijing when a chance encounter with a Uighur a member of a Chinese Muslim minority at the home of her sort-of boyfriend Lao Zhang turns her life upside down. Lao Zhang disappears, and suddenly multiple security organizations are hounding her for information. They say the Uighur is a terrorist. Ellie doesn t know what's going on, but she must decide whom to trust among the artists, dealers, collectors, and operatives claiming to be on her side in particular, a mysterious organization operating within a popular online role-playing game. As she tries to elude her pursuers, she's haunted by memories of Iraq. Is what she did and saw there at the root of the mess she's in now?
About the Author
Lisa Brackmann has worked as an executive at a major motion picture studio, an issues researcher in a presidential campaign, and as the singer/songwriter/bassist in an LA rock band. A southern California native, she currently lives in Venice, California, with her three cats. Rock Paper Tiger is her first novel.
Praise For Rock Paper Tiger…
"Don't turn the pages too fast.  Brackmann's evocation of China, funny, frustrating, frightening, sometimes tender, and always real, is worth savoring."
—Nicole Mones, author of Lost in Translation and The Last Chinese Chef
 
"Lisa Brackmann's novel gets off to a fast start and never lets up…. Ellie is a perfect spunky heroine…. be prepared for a wild ride."
—The New York Times Book Review
 
"Recommendation for More Thrills: This pulse-racer about an American Iraq-war vet is set in the art world of Beijing."
—Entertainment Weekly
 
"Lisa Brackmann's debut novel is as slick and smart as an alley cat…. Beijing in Rock Paper Tiger is as it is in real life: fast, furious, often ugly, and with a Starbucks sitting on every corner."
—Time Out Beijing
 
"An original and compelling protagonist.... Brackmann maintains the tension throughout, and we're given a surrealist peek at China's subterranean society."
—Japan Times
 
"Check out Rock Paper Tiger. It's a mystery/action novel that pretty much pulls off something I would have thought improbable: combining an account of Iraq-war drama (the emphasis is on Abu Ghraib–type themes), with a portrayal of the urban China of these past few years, complete with overhyped art scene, dissident bloggers, lots of young expats, and constant uncertainty about what the government will permit or crack down on."
—The Atlantic
 
"Summer reading recommendation. "The contemporary China so vividly rendered in Lisa Brackmann's bracing debut novel is a place where the Starbucks baristas 'all know the English words for coffee'' and housing developments are named after glamorous U.S. hotspots… Rock Paper Tiger is a gripping ex-pat nightmare that unfolds with superb pacing and salient details. And it makes you damned glad your life is boring."
—Miami Herald
 
"A remarkable debut… Brackmann paints a mesmerizing picture of life in jittery modern Beijing."
—Seattle Times
 
"Lisa Brackmann's timely and hip debut novel is a thriller with a plucky heroine, locales actual and virtual, and grounding in the Abu Ghraib scandal…. Brackmann can write."
—Boston Globe
 
"At the top of the Most Promising New Author list is Lisa Brackmann with Rock Paper Tiger... a terrifying tale of life and death behind the Bamboo Curtain."
—San Diego Union Tribune
 
"Rock Paper Tiger is a splendid debut novel by a gifted new writer. Her Chinese setting is exotic and chilling, and the characters live and breathe. The story is smart and fast as a sports car. Keep an eye on Brackmann."
—T. Jefferson Parker, author of The Renegades and Iron River
 
"Few writers would be up to the challenge of blending the worlds of urban China, Iraq, and a virtual online kingdom—but Lisa Brackmann wildly succeeds. Prepare to taste the smog, smell the noodles, and rub the Beijing dust between your fingers."
—Eliot Pattison, author of the Edgar award-winning novel, The Skull Mantra
 
"A terrifying odyssey in present-day China.... A totally captivating page-turner with vivid, first-hand details and nuanced multi-cultural facets."
—Qiu Xiaolong, author of The Mao Case
 
"Electrifying debut... the book's exotic setting and tough heroine will definitely appeal to fans of John Burdett and Steig Larsson."
—Publishers Weekly, STARRED REVIEW
 
"A fast-paced and engaging story as both plots are full of mystery and suspense… Good reading for anyone interested in the international crime novel."
—Booklist
 
"A gritty and intriguing tale of terror that draws in the reader with each page; Brackmann is a new writer to watch."
—Library Journal