Stolen Lives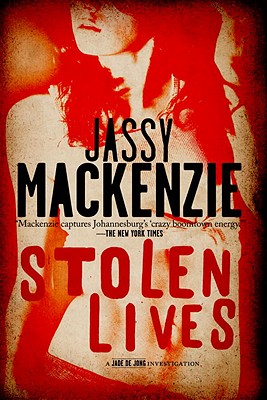 Stolen Lives
Soho Crime, Hardcover, 9781569479094, 313pp.
Publication Date: April 19, 2011
* Individual store prices may vary.
Buy at Local Store
Enter your zip code below to purchase from an indie close to you.
or
Not Currently Available for Direct Purchase
Description
When wealthy Pamela Jordaan hires PI Jade de Jong as a bodyguard after her husband Terrance disappears, Jade thinks keeping an eye on this anxious wife will be an easy way to earn some cash. But when a determined shooter nearly kills them both and Jade finds Terrance horrifically tortured and barely alive, she realizes that she has been drawn into a wicked game.
 
At the same time, her relationship with police superintendent David Patel is on the rocks, and things only get more complicated when his son is kidnapped and his wife is blackmailed. It soon becomes clear that the kidnapping and the attempted killings of Pamela and her husband are tied to a human trafficking ring that stretches from Johannesburg to London.
About the Author
Jassy Mackenzie was born in Rhodesia (now Zimbabwe) and moved to South Africa when she was eight years old. She lives with her partner Dion, and two horses and two cats. She enjoys traveling, cooking, cycling, and competes in dressage on her thoroughbred. She also loves the energy, danger and excitement of Johannesburg, believing there is no better place for a thriller writer to be, and wishes to share its 'terrifying, exhilarating, essence with readers across the world'. From a book-loving family where TV was banned from the house, she is the second youngest of five daughters. Her mother Ann Mackenzie was a well-known short story writer, and Jassy's sister, Vicky Jones, now living in New Zealand, is a prize-winning author of children's books. As a youngster, Jassy seemingly had an uncanny knack of choosing unsavoury boyfriends who were involved in everything from cocaine dealing to smuggling. Then, she was hijacked at gunpoint outside her home, and had her car taken from her by force. This experience led to her first novel: 'Random Violence'. She has since written several more thrillers, a 'Jade De Jong' detective series, and erotic romances. Combining her writing career with editing a 'Hair and Beauty' trade magazine, Jassy has also had numerous non-fiction articles on a wide variety of subjects published locally, and internationally, over the years.
Praise For Stolen Lives…
Praise for Stolen Lives:

"With danger and mayhem at every turn—and Mackenzie provides plenty of twists—Stolen Lives is a page turner of superior power.  Its shocking conclusion leaves the reader breathless—and eagerly awaiting the next installment in Jade's life."—Richmond Times-Dispatch

"The second Jade de Jong novel by Jassy Mackenzie is every bit as vivid and violent as the first. Mackenzie's turf is Johannesburg, in the new South Africa, but she has a much more jaded view than writers like Deon Meyer.... Mackenzie's roots are in the grit and grime of noir fiction, but she gives the old style a twist all her own."—Toronto Globe and Mail

"Mackenzie offers insight into postapartheid South Africa, an area of the world unfamiliar to most U.S. mystery buffs. For those readers who like Sara Paretsky and Lynda La Plante and fans of international crime fiction."—Library Journal, Starred Review

"Jassy Mackenzie's followup to Random Violence delivers on all fronts that matter: dextrous pacing, unflinching action, and stark, brave compassion in the clutch. South Africa comes alive on the page, but it's no travel-guide version—the Jo'burg skyline and dusty shops, the embassy offices and dreary mine-dumps—even the pristine suburbs pulse with dark energy. Jade de Jong is a heroine to cherish: tough, passionate, and pocked with enough flaws to keep her interesting."—Sophie Littlefield, Anthony Award–winning author of A Bad Day for Sorry

"Gripping.... Stolen Lives is as thought-provoking and socially conscious as it is suspenseful.... Without preaching, this book should cause readers to care, and perhaps even get involved in fighting the sex trafficking industry. A fascinating read with a strong heart."—ForeWord Reviews

"Under Mackenzie's deft hand, Jo'berg and Jade crackle with frenetic energy."—Publishers Weekly

"Jade's sophomore adventure (Random Violence, 2010) provides a crackling pace and nonstop action ... Mackenzie's Johannesburg is as gritty and dangerous as noir L.A. or the drug meccas of South America."—Kirkus Reviews

Praise for Random Violence:
 
"A hard edged first novel ... Even as Mackenzie captures Johannesburg's 'crazy boomtown energy,' she doesn't shy away from the rough stuff. None of which, it should be said, is quite rough enough to scare this remarkable new sleuth, whose future exploits should be worth watching."—Marilyn Stasio, The New York Times Book Review

"The heroic private investigator with a dark side is hardly a new concept, but Jassy Mackenzie makes one her own in her debut novel.... Mackenzie, who has lived in South Africa from an early age, plays her hand deftly, with a page turner of a story, intriguing characters—Jade is particularly memorable—and a wealth of South African color, including its appalling racial history. At once brutal and beautiful, Random Violence leaves nothing to chance in hooking the reader."
—Richmond Times Dispatch

Starred Review: "South African writer Mackenzie has created a strong female character with amazing resilience, unusual friends, and incredible luck. This gripping first entry in a new crime series set in postapartheid South Africa should please readers of Zoë Sharp and Suzanne Arruda. Fans of other South African crime fiction by Deon Meyer, Roger Smith, and Malla Nunn will also want to try."—Library Journal

Starred Review: "Set in contemporary South Africa, Mackenzie's triumphant debut introduces PI Jade de Jong.... The plot has more than its fair share of nice twists, and Mackenzie does a superb job of making the reader care for her gutsy lead while offering a glimpse at life in South Africa after apartheid. Readers will wish Jade a long fictional career."—Publishers Weekly