Caring Is Creepy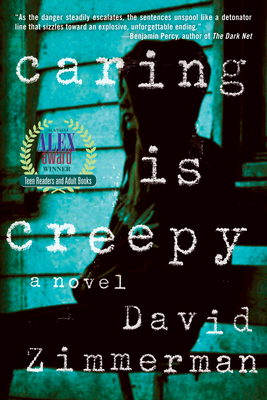 Caring Is Creepy
Soho Press, Paperback, 9781569479773, 336pp.
Publication Date: April 3, 2012
* Individual store prices may vary.
Buy at Local Store
Enter your zip code below to purchase from an indie close to you.
or
Buy Here
Description
Fifteen-year-old Lynn Marie Sugrue is doing her best to make it through a difficult summer. Her mother works long hours as a nurse, and Lynn suspects that her mother's pill-popping boyfriend has enlisted her in his petty criminal enterprises. Lynn finds refuge in online flirtations, eventually meeting up with a troubled young soldier, Logan Loy, and inviting him home. When he's forced to stay over in a storage space accessible through her closet, and the Army subsequently lists him as AWOL, she realizes that he's the one thing in her life that she can control. Meanwhile, her mother's boyfriend is on the receiving end of a series of increasingly violent threats, which places Lynn squarely in the cross-hairs.
About the Author
David Zimmerman attended Emerson College for film studies and then went on to earn an MFA in creative writing at the University of Alabama. He has worked as a publicist at St. Martin's Press in NYC and taught writing at Georgia Southern University, Dilla University College in Ethiopia, South College in Savannah and the University of Wisconsin, where he was also a fiction fellow at the Wisconsin Institute of Creative Writing. His books include a novella, SOCKET (Anvil Press, 2002) and a novel, The Sandbox (Soho Press, 2010). He currently teaches at Iowa State University in the Creative Writing and Environmental Studies department.
Praise For Caring Is Creepy…
Praise for Caring is Creepy

Alex Award Winner

"Lynn's voice is authentically sardonic and compelling.... The intersections of Lynn's and Logan's story line with the consequences of Hayes's shady dealings are consistently exciting."
—Publishers Weekly
"David Zimmerman has written a beautifully menacing novel. I found it impossible to stop reading—as teenage girls flirt with danger online, an AWOL soldier hides out in a closet, and drug deals go dead wrong—and you will too, as the danger steadily escalates, the sentences unspooling like a detonator line that sizzles toward an explosive, unforgettable ending."
—Benjamin Percy, author of The Wilding and Refresh, Refresh

"This story is sweet, funny, sad, infuriating, and all too real."
—Tulsa Books Examiner
"An engrossing and unforgettable tale based on actual events.... Those who can empathize with flawed characters in dire situations will not be able to put this book down."
—Library Journal
"When Zimmerman's characters get dirty, you feel the grit, and when they hurt, you feel the sting." —Ames Tribune
"[A]n insidious and deceiving but often sweet summertime ensnarement that is alternatively a tangled web and tender trap." —Blogcritics.org

Praise for David Zimmerman's previous novel, The Sandbox

"[A] gripping first novel."
—The New York Times Book Review

"[A] remarkable debut.... Zimmerman is a talent to watch."
—Publishers Weekly, STARRED REVIEW

"Zimmerman adroitly depicts [Iraq's] isolated moonscape—a place as liable to produce hallucinations and heat exhaustion as it is to churn up sandstorms that last for days."
—Los Angeles Times