London Calling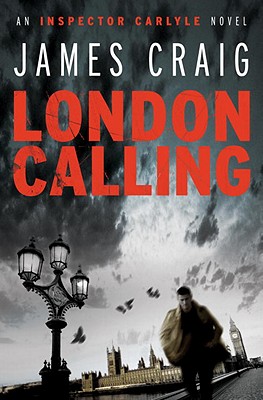 London Calling
Soho Constable, Hardcover, 9781569479902, 312pp.
Publication Date: November 8, 2011
* Individual store prices may vary.
Not Currently Available for Direct Purchase
or
Shop Local
Enter your zip code below to purchase from an indie close to you.
Description
In the middle of a General Election, someone is targeting former members of hte ultra-exclusive Merrion Club, youthful hedonists addicted to excess transformed into pillars of the political establishment. Next in the killer's sights is charismatic, ruthless Edgar Carlton, the man poised to be the next Prime Minister. But, with power almost in his grasp, Edgar will not stand idly by while his birthright is threatened.
When Inspector John Carlyle finds a body in a luxury London hotel room he begins a journey thorugh the murky world of the British ruling classes which leads all the way to the top. Operating in a world where right and wrong don't exist and the pursuit of power is everything, Carlyle has to find the killer before Carlton's people take the matter into their own hands.
About the Author
First time fiction author James Craig started writing professionally more than forty years ago. He holds degrees in Journalism, Psychology and Law, with graduate hours in Military History and Military Affairs. In addition to journalism, Craig practiced law, including five years as a prosecutor and served in several state and local law enforcement agencies.
Praise For London Calling…
"In this hard-bitten political thriller, the author skillfully portrays Carlyle as a good cop who genuinely struggles with the problems of his job and his lifestyle.  Mr. Craig, a former journalist, writes with brutal candor about crimes as vicious as crimes can get.... It says something about the author's capacity for the darkest of humor when his description of a corpse superglued to a car can evoke a chuckle from the reader as police try to detach the body."—Washington Times

"As the title of James Craig's London Calling suggests, The Clash should be the soundtrack for this close to pitch-perfect debut introducing Inspector John Carlyle."—Milwaukee Journal-Sentinel

"Craig lards his familiar tale of revenge served cold with enough expository detail for a primer on politics and enough personal background about his hero to insure that his debut mystery won't be his last."—Kirkus Reviews

"So addictive you won't be able to tear yourself away."—Library Journal

"James Craig's gutsy, envelope-pushing debut, London Calling, dares to distinguish itself from the rest of the crime drama genre. It is a carefully crafted blend of horror and police procedural that is quite macabre and spellbinding."—Gumshoe Reviews