Our Way to Fight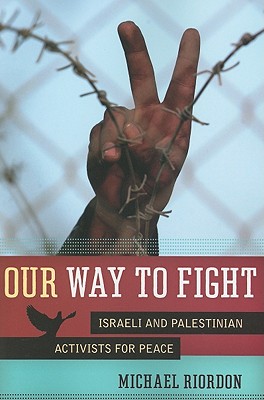 Our Way to Fight
Israeli and Palestinian Activists for Peace
Lawrence Hill Books, Paperback, 9781569767788, 242pp.
Publication Date: May 1, 2011
* Individual store prices may vary.
Buy at Local Store
Enter your zip code below to purchase from an indie close to you.
or
Not Currently Available for Direct Purchase
Description
The news coming out of the Israel-Palestine conflict remains grim. The region remains a symbol of instability fueled by violence and hatred. In "Our Way to Fight, "journalist and author Michael Riordon offers a different perspective, exploring the conflict through local Israeli and Palestinian peace activists who break all stereotypes. Riordon travels to thousand-year-old olive groves, besieged villages, refugee camps, checkpoints, and barracks, talking with people on both sides of the Wall who fight violence and war through creative resistance. He uncovers the crises that stirred them to act, the risks they face in working for peace, and the small victories that sustain them. In the face of deepening conflict, "Our Way to Fight" is a portrait of courageous grassroots action that provides hope for a livable future and inspiration to peace activists in all nations.
About the Author
A Canadian writer and documentary-maker for almost four decades, Michael Riordon generates books and articles, audio, video and film documentaries, and plays for radio and stage. A primary goal of his work is to recover voices of people who have been silenced in the mainstream, written out of the official version.
Michael Riordon teaches writing, and has written four books of oral history: Our Way to Fight: Peace-Work Under Siege in Israel-Palestine, Eating Fire: Family Life on the Queer Side, An Unauthorized Biography of the World, and "Out Our Way: Gay and Lesbian Life in Rural Canada". He lives near Picton, Ontario.
Praise For Our Way to Fight…
"A book like a pocket lamp that contests darkness: the darkness fabricated by those who have promoted a global blindness concerning what has happened in Palestine and Israel during the last sixty years. The battery of this remarkable lamp is true observation, and with it you discover exemplary courage in the most unexpected places. Pocket it!" --John Berger, author of Ways of Seeing and About Looking

Riordon's portraits reveal what it means to be a courageous person, a seeker of truth. This is a vital intervention for all who care about peace and justice." --Neve Gordon, author of Israel's Occupation

"Riordon offers an important corrective to the standard tale of an intractable conflict." --Publishers Weekly, starred review

"An important asset for those with advanced knowledge of Israel's apartheid. It adds clarity and most importantly--humanity--to such a complex situation in which the repressors portray themselves and even see themselves as the victims, that is valuable for even the most experienced activist." --Shir Hever, author of The Political Economy of Israel's Occupation

"Sensitive interviewing and careful attention to detail." —IllumeMagazine.com