Flying Apron's Gluten-Free & Vegan Baking Book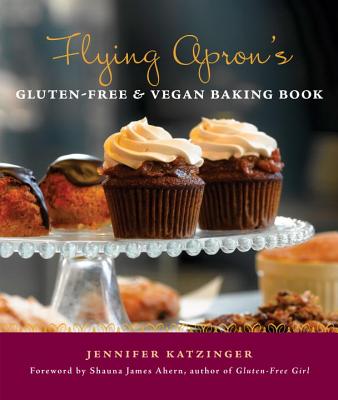 Flying Apron's Gluten-Free & Vegan Baking Book
Sasquatch Books, Paperback, 9781570616297, 175pp.
Publication Date: October 13, 2009
* Individual store prices may vary.
Not Currently Available for Direct Purchase
or
Shop Local
Enter your zip code below to purchase from an indie close to you.
Description
Over the last decade, a vegan diet has become a more mainstream choice; food allergies have been increasing at alarming rates; and celiac disease is on everyone's radar. When owner Jennifer Katzinger opened The Flying Apron Bakery in 2002, she wanted to accommodate more people, as well as use healthier ingredients so she eliminated gluten, dairy, egg, soy, and wheat. The mouthwatering result? Cakes and muffins with a tender crumb, cookies with a chewy bite, frosting that's light yet satisfyingly sweet, and pastry that flakes at the touch of a fork. In Flying Apron's Gluten-Free and Vegan Baking Book, Katzinger shares the delicious secrets of her sweet and savory recipes. Bake yummy pastries like Blueberry Cinnamon Scones and Lemon Poppy Seed muffins, or whip up a batch of Chocolate Chip Cookies, or Cardamom Spice Cupcakes. In more than 80 recipes, Katzinger offers satisfying treats, whether you're transitioning to a vegan or gluten-free diet, or simply wanting to indulge a sweet tooth using healthier ingredients.
About the Author


Shauna James Ahern has loved food all her lie. In May 2005, she was diagnosed with celiac disease, a fate that she embraced joyfully. Immediately after going gluten-free, she started a food blog, glutenfreegirl.com, where she shares stories, photographs, and recipes. Her Web site won best Food blog with a Theme in 2006 and receives thousands of hits a day. She is considered one of the most authoritative sources on gluten-free living on the Internet. She lives in Seattle with her husband, Daniel Ahern, a professional chef. She doesn't miss gluten at all.
Praise For Flying Apron's Gluten-Free & Vegan Baking Book…
"Flying Apron's Gluten-Free & Vegan Baking Book by Jennifer Katzinger makes me want to hop the next train to Seattle to sample these treats from the bakery itself."
The Oregonian

"[Katzinger's] recipe introductions add a personal touch that many bakers will appreciate. If bakers need one gluten-free baking book to get them through the holidays, this one is it."
Library Journal

"Jennifer Katzinger brings her warm, homey style and gluten-free recipes out of the bakery and into the home kitchen in this small but handy book."
The Kitchn 
 
"Katzinger's recipes are truly unfussy. Simple ingredients. Delicious results."
Ramshackle Solid 

"It is time for dessert! Your non-vegan friends will be jealous with the fantastic selection of recipes for making morning pastries, scones, muffins, coffee cakes, cookies, pies and tarts, pie crusts, pie fillings vegan cup cakes... The list goes on and on. Katzinger also has a great selection savory fare, including gluten-free entrees, soups and salads."
Bookish Worm

"Katzinger's book goes beyond sweets, and opens a door to savory, meals, and overall baking. She takes out the mystery behind gluten-free baking and the end result is delicious."
The Queen of Tarts

"Katzinger, owner of the Flying Apron Bakery in Seattle, has written a lovely, workable, informative cookbook. Every recipe makes sense. They work! And there aren't a lot of confusing ingredients and steps. This is a fabulous book for beginners and experienced chefs alike."
Nutrition for Empowered Women
 
"The recipes in Jennifer Katzinger's book are long awaited options for many of us used to walking past bakery windows full of enticing treats without a second glance... these recipes open the door to decadent desserts and savoury staples for those who make culinary choices based on personal and ethical considerations."
Vegan Cookbook Critic