Petal & Twig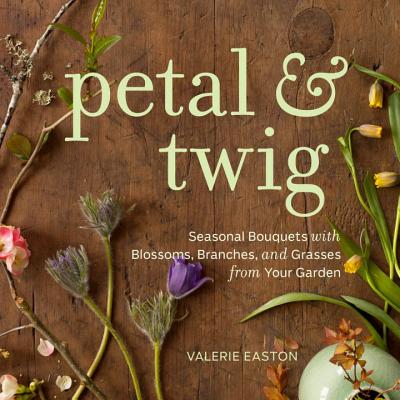 Petal & Twig
Seasonal Bouquets with Blossoms, Branches, and Grasses from Your Garden
Sasquatch Books, Hardcover, 9781570617669, 115pp.
Publication Date: January 31, 2012
* Individual store prices may vary.
Buy at Local Store
Enter your zip code below to purchase from an indie close to you.
or
Not Currently Available for Direct Purchase
Description
Flower arranging has never been simpler with plants from your own garden and yard." "With an inviting and personal tone, Easton shows how to assemble floral arrangements for color, for fragrance, to express the essence of the season, for the dinner table, for the kitchen, for the bookshelf. Inspiration, experimentation, and simple pleasure are the keys to the new bouquets.
About the Author
Valerie Easton is a weekly garden columnist for "Pacific Northwest Magazine" of "The Seattle Times". Her own low-maintenance garden, the muse for this book, has been published in "The New York Times", "This Old House", and "Horticulture". She has contributed articles on gardens, homes, and the people who make them to a variety of magazines, including "Metropolitan Home, Fine Gardening", and "Gardens Illustrated". Valerie trained as a Master Gardener and was for eighteen years the horticultural librarian at the University of Washington in Seattle. She gardens, teaches yoga, and blogs (www.valeaston.com) in the village of Langley, on Whidbey Island, Washington. Her previous book is "A Pattern Garden" (www.apatterngarden.com).
Praise For Petal & Twig…
Almost any flower, leaf or branch can look good in the right vase. The combination is a study in texture, color, shape, the reflection of light. Valerie Easton, a Seattle-based garden writer, discusses the art of growing and arranging cut flowers in "Petal and Twig: Seasonal Bouquets With Blossoms, Branches and Grasses From Your Garden" (Sasquatch Books; $16.95). Written as an informal diary, with photographs of arrangements from her own container garden, and tips on cutting and keeping flowers fresh, the book inspires ideas not only on what to grow but on how to combine (or not) those beauties inside.
The New York Times 

In the most personal of her several books, Val Easton leads us gently through the seasons as she demonstrates the ease with which she brings her garden indoors to decorate her home. ... Petal & Twig is a book for anyone who wishes to bring cut material indoors-from even the smallest of gardens. While the palette in Val's arrangements is decidedly Pacific Northwest (after all, she splits her time between Whidbey Island and Seattle), the message of Petal & Twig is definitely non-regional: grow your own, cut your own, observe what you have, and learn to play with it. Let your bouquets exemplify nature's artistry brought indoors.
Pacific Horticulture Magazine

Open your eyes and keep it simple: those are two lessons Easton (The New Low Maintenance Garden), a garden writer and Huffington Post columnist, passes on from her own 40 years in the garden. When selecting and arranging flowers for bouquets, you needn't spend a bundle buying a bundle of imported flowers. Instead, check what's in stock in your own backyard. Easton, who gardens in the Seattle area, offers refreshing counsel for thinking about bouquets through the year. They needn't contain only colorful flowers. Add grasses, twigs, and foliage. Easton offers guidelines and principles (one can own a lot of thrift shop and garage sale vases) as well as a journal of possibilities through the seasons. Gardeners not in her area will have to substitute for some of her core list recommendations, and think very strategically in winters in less mild USDA growing zones about seedpods and branches. The result, however, will be unique, local, imaginative, and inexpensive. Color photos throughout illustrate and inspire. 
Publishers Weekly

The next best thing to being surrounded by the real thing is immersing yourself in a floral volume packed with pretty pictures and, hopefully, sage advice. Valerie Easton's latest book, Petal & Twig...is just such a treat. The popular gardening writer (a longtime columnist for the Seattle Times' Pacific Northwest magazine) has created one easy-to-follow, season-by-season tutorial on how to turn your homegrown flora into fabulous floral arrangements... The book's simple, personal-journal approach—Easton even snapped most of the book's featured blooms, which were mostly culled from her 2,400-square-foot garden—is not only a particular pleasure, but makes it easy for gardening newbies to dig into its contents.... Here's to a fun read, and to cooking up your own cool custom bouquets year-round.
Northwest Home

A refreshing take on flower arranging, offering up inspiration for creations using plants from your own garden...
Gardenista

Gardeners will learn to create beautiful seasonal bouquets with blossoms, branches and grasses from their yards in this lovely book featuring numerous color photographs.  Even in the winter, Easton uses twigs and the most resilient plants in her yard to bring nature into her home, and Petal & Twig chronicles her efforts over the course of a year.  Readers will also benefit from Easton's gardening and arranging tips, and a useful list of the best times to grow different plants.
Alaska Airlines Magazine

Garden columnist Valerie Easton is an enthusiastic supporter of creating seasonal bouquets from a garden's bounty of blossoms, branches, and grasses. She relates the great joy that can be found in the use of "what nature offers up." Easton describes the pleasure one receives when employing the many forms—buds, seedpods, seedheads, berries, branches, twigs, and, of course, blossoms. The author reviews guidelines for collecting and preserving living materials and comments on the choice of containers, while providing tips on plant selection, color, and design. To spur the reader onward in a celebration of garden materials, there is a chronicle of photographs of seasonal arrangements and a listing of suitable plants to grow for use in bouquets.
Chicago Botanic Garden

Cute new little book from one of our favorite local garden writers. Open your eyes and keep it simple: those are two lessons Easton passes on from her own 40 years in the garden. When selecting and arranging flowers for bouquets, you needn't spend a bundle buying a bundle of imported flowers. Instead, check what's in stock in your own backyard. Easton, who gardens in the Seattle area, offers refreshing counsel for thinking about bouquets through the year. They needn't contain only colorful flowers. Add grasses, twigs, and foliage. Easton offers guidelines and principles (one can own a lot of thrift shop and garage sale vases) as well as a journal of possibilities through the seasons.
My Edmonds News