More from Macrina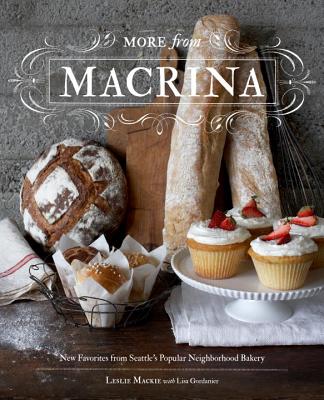 More from Macrina
New Favorites from Seattle's Popular Neighborhood Bakery
Sasquatch Books, Hardcover, 9781570617799, 256pp.
Publication Date: October 30, 2012
* Individual store prices may vary.
Buy at Local Store
Enter your zip code below to purchase from an indie close to you.
or
Buy Here
Description
Leslie Mackie opened Macrina Bakery & Café in Seattle in 1993 after working with Lydia Shire & Susan Regis in Boston and as head baker at Seattle's Grand Central Bakery. She was among the first wave of Americans experimenting with recipes from European master bakers and a long, slow fermentation process. Mackie rediscovered the craft's traditional, almost spiritual importance. "In France, bakers are revered because bread is such a central part of the family and the community," she explains.

This new book has more of Mackie's irresistible, artisanal breads, including flatbreads and an emphasis on traditional Italian breads. The reader will also find cakes, cookies, pies, and other sweets and savories that devoted customers love. Mackie is deeply rooted in the Puget Sound community and treasures the relationships she has with customers, employees, and producers. Stories of some of her favorite people are sprinkled throughout the book.
Praise For More from Macrina…
"Leslie Mackie is the goddess of bakers in Seattle"
Tom Douglas

"Macrina's book has a slightly more European feel—just like the SoDo bakery on a rainy weekend—with many recipes based on their brioche dough. There are striking variations on yeast breads—herb baguette, pretzel knots, schiacciata, and a lovely no-knead loaf, and more elaborate cakes with layers of lemon curd and raspberry filling."
Edible Seattle

"More than a follow-up to the original Macrina cookbook, this inspiring hardcover features recipes for the artisan loaves, rich brioches, and enticing pastries that have been added to the bakery shelves in the years since the first cookbook was published, as well as profiles of the people, providers, and philosophies that make Macrina so beloved in Seattle. There are also savories like breakfast hash and BLTs."
The Seattle Times

"Established in 1993, Macrina has legions of Seattle fans. The founder's newest cookbook reflects the bakery's blend of baked goods and savory foods, with recipes such as flatbreads, traditional Italian breads, herb baguettes and tempting sweets, including cookies, muffins and coffee cakes."
Seattle 

"The irresistible aromas of fresh-baked bread, tarts and pies might soon waft through more Island kitchens than usual — now that one of Seattle's celebrated pastry chefs has issued her second cookbook."
Vashon-Maury Island Beachcomber

"It seemed high time for a sequel, and I think it's a great one. The book covers not just simple cookies and cakes, but many of the artisanal breads that Macrina is famous for, like their baguettes, pugliese, and flatbread. I also like that there are chapters dedicated to some cafe dishes Macrina serves, such as their BLT or their savory bread pudding... I like that many of the chapters feature a master recipe (like brioche) and then have several recipes showing how to use the dough – I love baking books that show how different pastries are related. The design is quite elegant and clean – Sasquatch did a beautiful job with this book."
Dessert First