The Everyday Wok Cookbook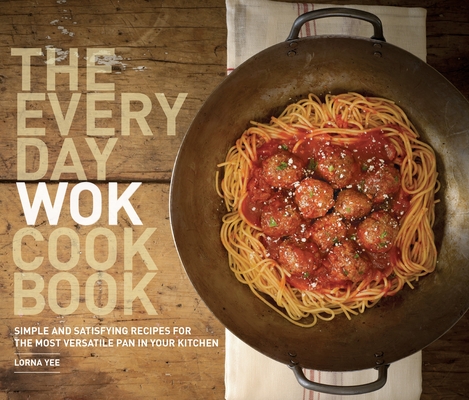 The Everyday Wok Cookbook
Simple and Satisfying Recipes for the Most Versatile Pan in Your Kitchen
Sasquatch Books, Paperback, 9781570617812, 145pp.
Publication Date: October 30, 2012
* Individual store prices may vary.
Buy Now
or
Shop Local
Enter your zip code below to purchase from an indie close to you.
Description
Most people think a wok is just for stir-frying Chinese food. Not so A wok is a versatile and inexpensive piece of kitchen equipment that can be used everyday, for all your meals. You can braise, steam, deep-fry, and stew foods in it. You can even bake a cake in it Don't stash your wok away in a cupboard. Leave it on your stovetop and use it every day
This book celebrates making American favorites such as spaghetti and meatballs, buttermilk fried chicken, and pulled pork sandwiches using the ancient Chinese cooking vessel. You'll also find easy Asian dishes like kung pao chicken, shrimp and egg fried rice, stir-fried beef and broccoli, and chicken chow mein.
Praise For The Everyday Wok Cookbook…
"Don't make assumptions from the title. The Everyday Wok Cookbook is comfort food at its finest—think hush puppies, spaghetti and meatballs and French toast along with scallion pancakes and pot stickers. Author Lorna Yee makes it highly tempting to ditch every other pan in the kitchen after you've used her buying advice to choose the wok of your dreams." 
Edible Seattle 

"This book certainly taught me so much about how to choose and how to season a wok. Done.
But beyond the traditional Chinese recipes, Lorna teaches you how to make some popular American dishes such as buttermilk fried chicken, mac-and-cheese and messy po' boy sandwiches. Again, all made in a wok. Wow. She makes cooking with the wok so much fun and even if you don't have a wok, the recipes are easy to make in a skillet and are all are so useful throughout the year."
White on Rice Couple

"...this straightforward book provides recipes for delicious and unique ways to get the most out of your wok."
Voracious (Seattle Weekly)

"Proving that a wok can do more than just stir-fry meats and veggies, Yee (coauthor of The Newlywed Kitchen cookbook and a food writer at Seattle mag) shows readers how to use the ancient kitchen tool to make 'bananas Foster French toast,' spaghetti (with bison meatballs) and 'The Creamiest Mac and Cheese.'"
Seattle