Real Snacks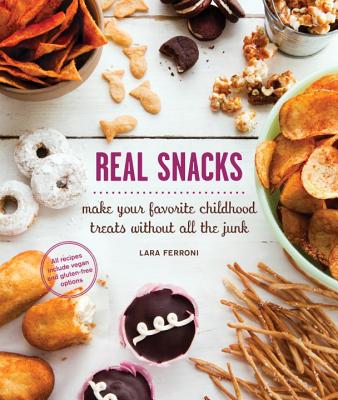 Real Snacks
Make Your Favorite Childhood Treats Without All the Junk
Sasquatch Books, Paperback, 9781570617881, 159pp.
Publication Date: October 30, 2012
* Individual store prices may vary.
Buy at Local Store
Enter your zip code below to purchase from an indie close to you.
or
Buy Here
Description
Make wholeseome homemade Twinkies, Ding-Dongs, Doritos, and Cheez-Its, all with gluten-free and vegan variations Here are 70 recipes for everyone's favorite childhood snacks with whole grains and natural sweeteners, so you can make low-sugar treats the whole family will love. Full of wonderful flavors and nutrients not artificial colors and preservatives, this collection of nostalgic childhood treats that satisfy your junk food cravings, but without all the junk. "Real Snacks "includes recipes for:
Twinkies
Ding Dongs
Hostess cupcakes
Pop Tarts
Animal Crackers
Oreos
Nilla Wafers
Sugar Wafers
Fig Newtons
Pepperidge Farms Milano cookies
Thin Mint Girl Scout cookies
Drumsticks
and more.
About the Author
Karen Foley is the publisher of Imbibe, an award-winning publication featuring the world's top drink destinations, recipes, and in-depth stories exploring all aspects of liquid culture.
Praise For Real Snacks…
"Brilliant! All the childhood treats I'm nostalgic for in one smart volume. Toaster tarts, cereal bars, and ice cream sandwiches made from real ingredients? I'll take one of each, please."
Heidi Swanson, author of Super Natural Everyday

"Lara's book is a beautifully photographed selection of 'goûters' (snacks) that will make you want to rush into the kitchen and bake for your children, family, and friends. If you feel short of ideas to make healthful snacks (also gluten free and vegan), her book has the answer."
Béa Peltre, La Tartine Gourmande

"Real Snacks is a dream come true. We all know we should eat quinoa, kale, and carrots at every meal, but sometimes we need a treat. If that treat is made with whole grains and alternative sweeteners, all the better. Lara Ferroni's playful yet truly helpful book introduces readers to unfamiliar ingredients such as amaranth flour or coconut palm sugar in the midst of making moon pies, chocolate toffee bars, and crunchy cheese puffs. That so many of the recipes can be made gluten-free is a boon for those of us who have to avoid gluten entirely. Now, if you'll excuse me, I'm off to make some nacho cheese tortilla chips." 
Shauna Ahern, Gluten-Free Girl

"This book, like Doughnuts, punches way above its weight in every category—aesthetics, recipes, variety, and nostalgia. All your childhood favorites are here: twinkies, Hostess cupcakes, powdered donettes, caramel corn, fig newtons, goldfish, moon pies, sugar wafers, pop tarts, thin mints, cheez-its…  The mindboggles!! I really can't believe Lara has put this together!  Gluten-free and vegan options make it accessible for everyone. This book is worth every penny, and would be tremendously appreciated by anyone who loves baking!"
Kristina Gill, Matt Bites

"If you're one of those people who reads the ingredient ilst on the back of a bag of Cheetos but buys them anyway, this one's for you. Lara Ferroni is coming to the rescue. She's managed to recreate, some would say reengineer, some of the world's most beloved snacks like Twinkies, Ding Dongs, and Cheezits, without all that bad stuff."
Lynne Rossetto Kasper, The Splendid Table

"Every once in a while I get a book from publisher that makes me want to run to my computer and type a review immediately so I can share the great news. This is the case with this book, Real Snacks: Make Your Favorite Childhood Treats Without All the Junk. This book is all about recreating childhood favorites in a healthier way with wholesome flours like spelt flour , buckwheat flour and whole wheat flour... All the recipes have a vegan and gluten-free version. I want to shout this part at the top of my lungs as this is all around awesome." 
Keren Brown, Frantic Foodie 

"In Real Snacks, Lara Ferroni brilliantly remakes our favorites, from sandwich cookies and ice cream novelties to every salty snack you can think of, including those addictive little fish-shaped crackers. They don't qualify as healthy, but you can pronounce every single ingredient."
Edible Seattle

"The real treat behind Real Snacks is that it's not just about recreating your favorite childhood snacks, it takes favorite childhood food and breaks everything down, even to the seasonings... This is a great book as both a gift and a source for making homemade goodies to give away — because who's going to say no to a batch of homemade Oreo cookies?... I guarantee there is some snack in there that will get your food nostalgia doing a happy dance."
Wasabi Prime

"Oreos, Ritz Crackers, Twinkies and Ding Dongs. One look at them takes us right back to high school -- as in chemistry class. The ingredient lists are a litany of unpronounceable non-foods. To the rescue comes local photographer and cookbook author Lara Ferroni, whose book 'Real Snacks' (Sasquatch, $19.95) replicates our favorite junk foods without, well, the junk. Though these DIY snacks lack the same instant gratification, they're well worth the effort."
MIX, The Oregonian

"Here's the thing about these cookies compared to the store-bought variety – these aren't exactly like the commercial versions because they taste so much better. The flavors are real. The texture is light and delicate, not hard and brittle. The quality is superior."
Use Real Butter

"Whether it's animal crackers made with spelt flour and honey or tater tots that don't come from the freezer, you're sure to find something that reminds you of those blissful years before you'd even heard the words high fructose corn syrup."
Eat Beat, Portland Monthly

"it was a real breath of fresh air when I saw Real Snacks: Make Your Favorite Childhood Treats Without All the Junk by Lara Ferroni. From classic graham crackers and cheese fish crackers to toaster tarts and snack cakes made with real ingredients and the goodness of home cooking, there are recipes for things even I'd never thought about cooking myself."
About.com Local Foods
 
"For her latest book, the Portland-based food photographer and cookbook author decided to take on some of the most highly processed (and popular) snack foods out there — snack cakes, nacho cheese tortilla chips, toaster tarts — and find ways to make healthier, homemade versions that are still tasty enough to satisfy your junk food cravings."
Oregon Public Broadcasting

"If you're upset about the recent news that Hostess Brands is closing (meaning no more Twinkies, Ding Dongs, Donettes, or Hostess Cupcakes, EVER), don't fear: we've got your back. Lara Ferroni's cookbook, Real Snacks: Make Your Favorite Childhood Treats Without All The Junk, has preservative-free recipes of all your favorite junk food, including Twinkies."
Bust.com

"...if you're like me and want to make more of your own snacks from scratch, then Real Snacks could be the cookbook you've been waiting for."
A Well-Seasoned Life

"Real Snacks: Make Your Favorite Childhood Treats Without All the Junk is all about making those treats that you so fondly remember in ways that use more nutritional ingredients. The end result is much better tasting snacks and a lot less guilt... This book is nothing short of fascinating and incredibly useful for those of us who who are trying to move away from convenience foods."
Luxury Reading

"...what if you resolved to give up 'store-bought' snacks and instead only indulged on snacks you made at home? With Lara Ferroni's latest book Real Snacks, you can do just that. Whether it's Twinkies, Goldfish crackers, potato chips, Girl Scout Thin Mints, Tater Tots, or Pop-Tarts, Ferroni has created a recipe you can make at-home."
Seattle Weekly

"Feel good about what snacks you are feeding yourself and your family and check out Real Snacks: make your favorite childhood treats without all the junk."
In the Know Mom

"It seems Lara didn't forget anything in this book because it also includes a useful appendix of pantry staple recipes like chocolate syrup, marshmallow creme and caramel sauce. Oh, and I can't forget the handful of naturally vegan recipes like sugar wafers, caramel corn, salty water crackers, potato chips, bean dip and corn nuts. So, next time you have a sudden craving for something sweet or salty, head to the bookstore instead of the grocery store. It's time, as Lara says, to 'Take back our snacks!'"
A Dash of Compassion

 "I quite literally squealed with glee when I saw this new book by Lara Ferroni. She covers everything from how to make our own Thin Mint Cookies and yogurt-covered raisins to homemade Cheetos and tater tots. (Along with gluten-free and vegan versions of every single recipe. Hello!) The next chance I get, I'm headed straight to the kitchen with this book in hand."
The Kitchn