The Gardens of Democracy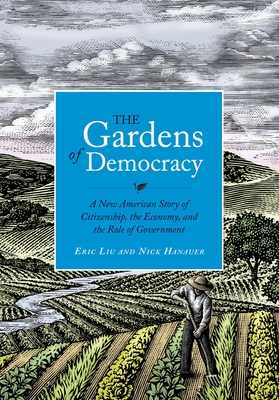 The Gardens of Democracy
A New American Story of Citizenship, the Economy, and the Role of Government
Sasquatch Books, Hardcover, 9781570618239, 173pp.
Publication Date: November 2011
* Individual store prices may vary.
Buy Now
or
Shop Local
Enter your zip code below to purchase from an indie close to you.
Description
Understand income inequality, middle-out economics and other realities of modern America as authors Eric Liu and Nick Hanauer argue that fundamental American assumptions about citizenship, society, economics, and government need updating for the 21st century.
For many years the dominant metaphor for understanding markets and government has been the machine. Liu and Hanauer view democracy not as a machine, but as a garden. A successful garden functions according to the inexorable tendencies of nature, but it also requires goals, regular tending, and an understanding of connected ecosystems. The latest ideas from science, social science, and economics--the cutting-edge ideas of today--generate these simple but revolutionary ideas:
True self interest is mutual interest. (Society, it turns out, is an ecosystem that is healthiest when we take care of the whole.)
Society becomes how we behave. (The model of citizenship depends on contagious behavior, hence positive behavior begets positive behavior.)
We're all better off when we're all better off. (The economy is not an efficient machine. It's an effective garden that need tending. Adjust the definition of wealth to society creating solutions for all.)
Government should be about the big what and the little how. (Government should establish the ideas and the goals, and then let the people find the solutions of how to make it happen.)
Freedom is responsibility. (True freedom is not about living some variant of libertarianism but rather an active cooperation a part of a big whole society; freedom costs a little freedom.)
"The Gardens of Democracy" is an optimistic, provocative, and timely summons to improve our role as citizens in a democratic society.
About the Author
Eric Liu was a speechwriter for president Bill Clinton in his first term and White House deputy domestic policy advisor in the second. He is the author of "The Accidental Asian: Notes of a Native Speaker" and "Guiding Lights: How to Mentor--and Find Life's Purpose," He has been a frequent commentator on CNN, MSNBC, and CNBC. In 2002, Eric was named by the World Economic Forum one of the 100 "Global Leaders of Tomorrow." He lives in Seattle, where he teaches at the University of Washington's Evans School of Public Affairs, and hosts an acclaimed television interview program called "Seattle Voices,"
Nick Hanauer is a successful entrepreneur based in Seattle. He was a founding investor in Amazon.com and served on the company's board of advisors. He founded and served as CEO of Avenue A Media and is a partner in Second Avenue Partners, a management, strategy, and investment group for early-stage companies. He is active in city, state, and national politics. He co-founded the League of Education Voters in Washington State.


Praise For The Gardens of Democracy…
"Liu and Hanauer have proposed a powerful new way to think about how society works and there is a lot here for conservatives to work with and debate." --Noah Kristula-Green, The Daily Beast
The Gardens of Democracy provides a refreshing new conceptual approach to understanding our economic and political situation, and it will help us move past the fossilized ideas in today's public debates."--Francis Fukuyama, author of The Origins of Political Order
"Society is a garden. Liu and Hanauer's simple metaphor makes the complexities and limits of social policy emerge before your eyes. Statists can't see the interconnections of organic systems. Free marketers can't see that a garden needs some tending. If you're looking for a way forward out of America's dangerous gridlock, read this wonderful book."--Jonathan Haidt, Professor of psychology, University of Virginia and author of The Righteous Mind: Why Good People Are Divided by Politics and Religion
"Eric Liu and Nick Hanauer are progressives who always think outside the box, and that's why everyone should pay attention to them. The Gardens of Democracy shakes up our stale debate over government's role in a dynamic society, and in a thoughtful, creative and inventive way. Everyone will find something to disagree with here, and that's the point: getting us out of our comfort zones is an immensely useful democratic undertaking."--E.J. Dionne Jr., author of Why Americans Hate Politics
"I just read a remarkable book by Eric Liu and Nick Hanauer. It is The Gardens of Democracy: A New American Story of Citizenship, the Economy, and the Role of Government.  I highly recommend it as a big gust of fresh air to clear out the dense, stale, gases we have all been breathing when it comes to how we talk about politics and citizenship. It is time to break out of the prison of left/right thinking that has made politics so mean spirited in recent years... There is something in this new metaphor for both the left and the right."--Ray Smock, Robert C. Byrd Center for Legislative Studies
"Even if you don't agree with everything the authors propose, you will find 'The Gardens of Democracy' to be spirited and thought provoking."--The Bellingham Herald