I Would Tuck You in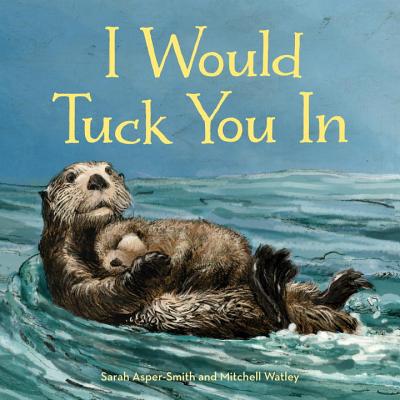 I Would Tuck You in
Sasquatch Books, Hardcover, 9781570618444, 32pp.
Publication Date: December 11, 2012
* Individual store prices may vary.
Buy at Local Store
Enter your zip code below to purchase from an indie close to you.
or
Buy Here
Description
Perfect for fans of The Runaway Bunny, this children's bedtime story is filled with baby animals and their mothers: an otter tucks her little one into a kelp forest bed; a family of brown bears snuggle all through the winter; a humpback whale sings a song to soothe her calf. Lovingly illustrated and lyrically written, I Would Tuck You In is written and illustrated by husband-and-wife author and artist team Mitchell Watley and Sarah Asper-Smith.
About the Author
SARAH ASPER-SMITH is an artist and designer. She is also the author of Have You Ever Seen a Smack of Jellyfish. She lives in Juneau, Alaska with her husband, painter MITCHELL WATLEY.
Praise For I Would Tuck You in…
"This is a sweet sharing book that is as warm as a bear hug."
Puget Sound Council for the Review of Children's Media

"...a thin but delightful book for children ages 3 to 7 about the caring relationship of mothers toward their offspring in the northern wilderness. The small factoids are fun too."
The Herald 

"Bedtime books featuring drowsy animals are nothing new, but Asper-Smith takes advantage of a growing trend by adding a nonfiction element that both deepens the content and opens the book up for classroom integration. Each two-page spread features an illustration of an adult/child animal pair and a sweet, nonrhyming promise: "If you were a little brown bat . . . I would find you on the darkest of nights." The feel-good sentiment is then explained in scientific terms via smaller text at the bottom of the page: "The little brown bat uses sound at night to find its way in the dark and capture mosquitoes to eat." Though sometimes these facts pull against the cozy fantasy—no, the owl isn't really staying up late to tell its offspring stories—they should succeed in intriguing young readers. Watley's rough yet realistic pencil–and–watercolor art resists anthropomorphizingthe characters and is refreshingly liberal with its palette: aquas for underwater whales, warm oranges for brown bears, forest greens for porcupines. Both snuggly and educational."
Booklist

"The book is a fine balance of playful and endearing. It's concise while still being educational. And for a four-year-old with the attention span of a gnat, it has it all: bright illustrations that are life-like, instead of cartoonish; enough variety to stave off boredom and no wording that is so long the wiggles set in. From page one, the book introduces readers to the wildlife of our northern region. There are snowshoe hares, bowhead and humpback whales, brown bears, caribou, little brown bats, boreal owls and arctic terns, just to name a few. Each animal is highlighted with a distinguishing feature and a little fact. Those little animal facts are part of what makes the book a success, I think. They add an opportunity for education and allow the book to be read to a broader range of young audiences. The illustrations, too, are a learning opportunity. They are detailed and lifelike, showing each of the animals in their typical habitat. Even the muskox look cold in their frozen tundra scene... In all, I'd say it's a triumph for this creative husband-wife team."
Juneau Empire

"I Would Tuck You In is the perfect parent-child love story, with a variety of Alaska creatures making their little ones safe and secure in dens, kelp beds, on tundra trails, and in the wide Arctic sky. Perfect for kids birth to five, this charming book by Juneau residents Sarah Asper-Smith and Mitchell Watley provides bedtime-story comfort, any time of the day or night. What I like, though, are the explanatory notes at the bottom of each page to engage the older reader, too. Learn about caribou, brown bears, bowhead whales, or owls as you smoothly navigate the pages, and calmly assure youngsters you will, indeed, love them always."
AK on the GO

"If you're looking for a serious case of the warm-fuzzies combined with some fun facts about animals, 'I Would Tuck You In' by Sarah Asper-Smith might just be a great book to pick up and snuggle with the kiddos to read."
Capital City Weekly