Tails Chasing Tails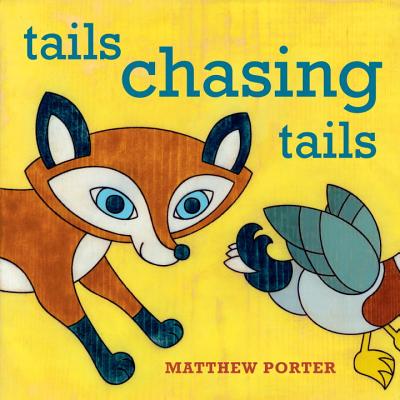 Tails Chasing Tails
Sasquatch Books, Board Books, 9781570618529, 20pp.
Publication Date: April 9, 2013
* Individual store prices may vary.
Buy at Local Store
Enter your zip code below to purchase from an indie close to you.
or
Buy Here
Description
In his new picture book, Etsy indie artist and Monkey World creator Matthew Porter creates a parade of colorful animals that trot, run, and scamper across the pages. A tiger chases a bear, which chases a pig, which chases a fox, and on it goes To find out who is chasing whom, simply turn the page. Using bold colors and distressed pinewood, Porter creates texture and movement in his artwork. His unique medium puts him in good company with other popular indie illustrators such as Nikki McClure and Kate Endle.
" Matthew Porter is] the undisputed king of the hipster board book genre." --School Library Journal.
About the Author
Matthew Porter is a children's book illustrator and writer. His artwork is sold on Etsy and at galleries and shops around the country. Matthew grew up in East Sussex, England, and now lives in Seattle. Find out more at matthewporterart.com
Praise For Tails Chasing Tails…
"[Matthew Porter is] the undisputed king of the hipster board book genre."
School Library Journal

"Against wood-grained backgrounds of yellow, blue and green, stylized animals chase one another's tails from page to page. The fun in 'Tails Chasing Tails' is in identifying what's being pursued from just its hindquarters; when you turn the page, the face and front legs of the creature appear. The exception is the elephant (usually everyone's favorite) that begins and ends the book. The animals' uniformly almond-shaped eyes and Matthew Porter's milky, opaque colors give the simple pictures an Indian inflection."
The New York Times

"Everyone loves a good chase, and Porter uses one to let readers guess the identity of each animal in the chain based on their tail. The first animal, an elephant with green almond-shaped eyes and a swoopy trunk, is pursuing 'a black-and-orange-striped tail.' The tiger to whom that tail belongs, meanwhile, is running after a 'short, brown tail' on the subsequent spread. The texture of the pinewood on which Porter paints bleeds through the images, and his animals—while entirely friendly and appealing—also have a static, almost totemic quality, as though the chase were part of a larger folktale."
Publishers Weekly

"Porter's acrylic paintings on wood of wide-eyed animals have a delightful folk-art look and feel and offer readers strong visual clues as to who is being chased. The text follows a simple pattern, but it includes some great vocabulary-building descriptions of each tail for would-be guessers... A delightful and playful romp worthy of an enthusiastic following."
Kirkus Reviews

"Aspiring authors can all learn a thing or two from Matthew Porter. He's produced an armful of beloved toddler books, including ABC and Count the Birdies."
Red Tricycle Seattle 

"We love Porter's hip, bright board books... Porter's art is filled with wide-eyed animals that he paints on wood panels. He is a north Seattle dad, and gets what toddlers and their parents want to read."
Seattle's Child