What Poets Are Like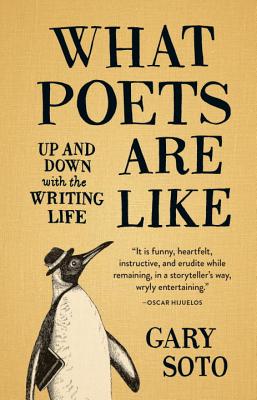 What Poets Are Like
Up and Down with the Writing Life
Sasquatch Books, Hardcover, 9781570618741, 199pp.
Publication Date: August 20, 2013
* Individual store prices may vary.
Buy at Local Store
Enter your zip code below to purchase from an indie close to you.
or
Not Currently Available for Direct Purchase
Description
Gary Soto is a widely published author of children's and young adult fiction, and he is an acclaimed poet--often referred to as one of the nation's first Chicano poets. With a sharp sense of storytelling and a sly wit, "What Poets Are Like" is a memoir of the writing life that shares the keen observation, sense of self and humor of such writers as Sherman Alexie and Nora Ephron.
In some 60 short episodes, this book captures moments of a writer's inner and public life, close moments with friends and strangers, occasional reminders of a poet's generally low place in the cultural hierarchy; time spent with cats; the curious work of writing. He tells the stories of his time spent in bookstores and recounts the glorious, then tragic, arc of Cody's Bookstore in Berkeley, ending with the author whose scheduled event fell on the day after the business shut down, but who stood outside the locked door and read aloud just the same. As all writers do, Soto suffers the slings and arrows of rejection, often from unnamed Midwest poetry journals, and seeks the solace of a friendly dog at such moments. Soto jabs at the crumbs of reward available to writers--a prize nomination here, a magazine interview there--and notes the toll they take on a frail ego. The pleasure Soto takes in the written word, a dose of comic relief plus his appreciation of the decisive moment in life make this an engaging and readable writer's confession.
About the Author
Gary Soto's first book for young readers, Baseball in April and Other Stories, won the California Library Association's Beatty Award and was named an ALA Best Book for Young Adults. He has since published many novels, short stories, plays, and poetry collections for adults and young people. He lives in Berkeley, California. Visit his website at www.garysoto.com.
Praise For What Poets Are Like…
"If you believe that the most important thing any piece of writing can do is to drop the reader into the center of an author's thoughts, then Gary Soto's What Poets Are Like is the book for you. It is funny, heartfelt, instructive and erudite while remaining, in a storyteller's way, wryly entertaining. Check it out, you won't be disappointed."
Oscar Hijuelos, author of The Mambo Kings Play Songs of Love

"The writer at work and in life takes a serpentine path. Gary Soto's story is sweet, bittersweet, and at times quite funny."
Shawn Wong, author of American Knees

"[Soto's] charming, though-provoking vignettes about everything from receiving his MFA by mail to domestic downsizing are best read one or a few at a time. This enables the readers to better savor his sometimes rueful wit and appreciation of time passing, as in his attempt to perfectly align adjacent window blinds... As one reads and mulls over these brief glimpses into Soto's literary mind, his words expand their meaning, application, and worth like flowers from seeds. Soto describes 'lakes of memory filling my eyes,' and recalls 'the geese darkening the sky of an autumn afternoon...winging south, their eyes filled with the memory of lakes.' So, too, do the essays gathered here fill and nourish us."
Booklist

"Gary Soto's collection of short, autobiographical essays are highly particular and personal, specific to Soto himself. And Soto's wry, occasionally self-deprecating sense of humor means that, far from extolling the virtues of leading a writer's life, many of the pieces contained in this collection point out its travails, its small indignities for anyone less of a "big shot" than Stephen King or John Grisham. This would be depressing to read if it weren't for Soto's comic timing and charming prose, which is carefully crafted to allow as much of his personal idiom and character as possible onto the page. ...the biggest link among the essays is Soto's voice itself, which is lively and funny and present, especially when Soto is making self-deprecating references to the youth of today." 
Zyzzyva

"These pieces offer glimpses of his life that are both pleasing (the memory of first meeting his wife, of meeting a loyal fan who named her dog after him) and poignant (the pang of facing empty chairs at a book reading). The essays move back and forth in time, addressing bittersweet topics that include aging, the problematic nature of success and the demise of the publishing world as Soto once knew it."
Kirkus Reviews 

"In 60 witty prose pieces, the Berkeley poet muses on book signings, party talk and the chimp cage at the Oakland Zoo."
San Francisco Chronicle

"Chicano poet and an author of children's and young adult fiction, Gary Soto examines the writer's life in this lovely memoir, making observations on everything from the low place of poets on the proverbial totem pole to the surplus of time he spends with felines."
Los Angeles Magazine

"Fresno author Gary Soto has written about a host of topics related to community, family and place, through the prism of his Mexican-American heritage. His latest book examines those themes on a personal level."
The Fresno Bee

"...a funny and engaging 'writer's confession,' very short stories about the realities of life as a poet that sometimes turn into poems."
Tampa Bay Times

"Feisty and funny, 'What Poets Are Like' offers generous insights into the literary life."
The Bellingham Herald

"Soto, the child of working-class Mexican-Americans, has not had an undistinguished poetic career. He has won awards and fellowships, been nominated for both the Pulitzer Prize and the National Book Award. (He's also the author of several successful books for children and young adults.) But 'What Poets Are Like: Up and Down With the Writing Life,' a loose collection of mostly autobiographical vignettes and anecdotes, is full of genial self-mockery... Soto's an amiable rambler, a born yarn-spinner."
The Chicago Tribune

"The pleasure Soto takes in the written word, a dose of comic relief plus his appreciation of the decisive moment in life make this an engaging and readable writer's confession."
Ars Poetica Library

"Here is a multitude of everyday concerns – easy to relate to and enjoy whether you're interested in poetry or not. But for fellow writers, Soto's words will mean even more."
Empty Mirror