Feng-Shui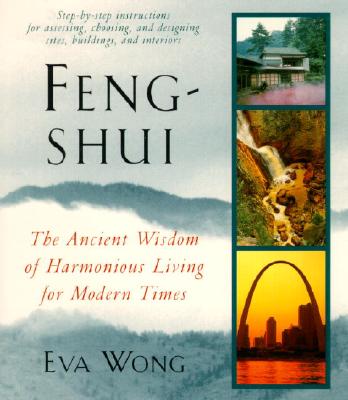 Feng-Shui
Shambhala Publications, Paperback, 9781570621000, 288pp.
Publication Date: July 1996
* Individual store prices may vary.
Shop Local
Enter your zip code below to find indies closest to you.
Description
The first complete, in-depth course in the traditional Chinese art of harmonious design for interiors, buildings, and sites--including instructions for making your own geomantic compass for feng-shui readings. Deeply rooted in Taoist and shamanic origins, feng-shui is not simply a list of directives for building auspicious structures or arranging interiors for good luck. It is the art of reading the patterns of the universe and living in harmony with the environment. With 200 photos and diagrams.

About the Author
Eva Wong is the Chairperson and President of TopHuman, which was founded in Canada in 1995 and has expanded globally in the past 11 years. As the Principal Coach of TopHuman, Eva developed the "Ren Coaching Model" which is based on the eastern Philosophy of Confucianism, Buddhism and Taoism. Eva is the first Chinese-credentialed MCC coach, as well as a member of the Board of the International Coach Federation (ICF). Currently, she is the President of China Coach Association (CCA). Eva graduated from Hong Kong Polytechnic University in Management and obtained a Masters of Counseling from University of New England in Australia. She is also the Life Member in the World Outstanding Chinese Foundation and has been elected as one of China's 100 Outstanding Women Entrepreneurs by the China Women's Federation and China Alliance of Women Entrepreneurs.
Lawrence Leung, Master Certified Coach (MCC) of the International Coach Federation (ICF), is the Chief Executive Office of TopHuman - the leading Coach Training company in China. He has been successful in coaching businesses and individuals as well as conducted numerous experiential training programs and skills-based seminars for businesses, government agencies, and universities. Lawrence is also a lecturer for coaching workshops in MBA courses of leading universities like Fudan University, Zhongshan University and Hong Kong University of Science and Technology. He has authored various coaching books such as "Corporate Coach: The Leadership Revolution" and "You Can Do It Better - A Collection of Successful Corporate and Executive Coaching Case Studies,"
Praise For Feng-Shui…
"Real feng-shui, refreshingly expressed by a true practitioner of the art with her feet firmly grounded in the Chinese Taoist tradition. Definitely one of the top 10 books on feng-shui in English."— Feng Shui for Modern Living



"Even the most casual or ambivalent reader will come away from the book with a greater sensitivity to the environment—landforms, rocks, trees, rivers, etc.—and greater appreciation of the relationship between traditional feng-shui guidelines and many of the principles of contemporary Western ecology."— Asian Thought and Society