The Art of Worldly Wisdom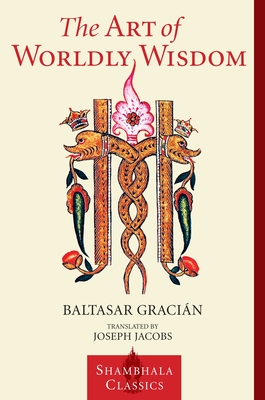 The Art of Worldly Wisdom
Shambhala, Paperback, 9781570627453, 160pp.
Publication Date: October 10, 2000
* Individual store prices may vary.
Shop Local
Enter your zip code below to find indies closest to you.
Description
This perennially popular book of advice on how to achieve personal and professional success is valued for its timeless insights on how to make one's way in the world. Written in the seventeenth century by a Spanish Jesuit scholar, these teachings are strikingly modern in tone and address universal concerns such as friendship, morality, managing emotions, and effective leadership. "The Art of Worldly Wisdom "is for anyone seeking to combine ethical behavior with worldly success.
This edition of "The Art of Worldly Wisdom "includes an informative introduction by Willis Barnstone, Distinguished Professor of Spanish and Comparative Literature at Indiana University. Barnstone, a noted translator, critic, and poet, explores GraciAn's background and places him within his historical and literary context.

About the Author
Baltasar Gracian y Morales est un ecrivain et essayiste jesuite ne le 8 janvier 1601 a Belmonte del Rio Perejil (Belmonte de Gracian, pres de Calatayud) en Espagne et mort le 6 decembre 1658 a Tarazona, pres de Saragosse. Ordonne pretre en 1627, il rejoint la compagnie de Jesus en 1633, prononca ses veux en 1635 et embrassa une carriere d'enseignant dans les ecoles de la Compagnie. En 1640, il devint confesseur de Francesco Maria Carafa, duc de Nocera, vice-roi d'Aragon, ce qui lui ouvrit les portes de la cour de Philippe IV, roi d'Espagne. En 1646, il fut l'aumonier de l'armee d'Espagne lorsque celle-ci reprit Lerida aux troupes du comte d'Harcourt. Ses qualites de predicateur lui valurent le poste de recteur de la compagnie de Jesus a Tarragone. Il publia de nombreux ouvrages sans se soucier de l'avis de ses superieur, ce qui lui finit par lui valoir d'etre sanctionne, exile a Graus en 1657, et mis en penitence (au pain et a l'eau). Il mourut rapidement de la severite de ce regime. Les uvres les plus connues de Baltasar Gracian sont: -Le heros -L'homme de cour -L'homme universel -Le Criticon -L'art de la prudence -Le Politique Dom Ferdinand le Catholique -Art et figures de l'esprit.



Jorge Luis Borges (1890-1982), Argentine poet, critic, and short-story writer, revolutionized modern literature. He was completely blind when appointed the head of Argentina's National Library.
Praise For The Art of Worldly Wisdom…
"Absolutely unique . . . a book made for constant use—a companion for life."—Arthur Schopenhauer

"Europe has never produced anything finer or more complicated in matters of moral subtlety."—Friedrich Nietzsche