Great Eastern Sun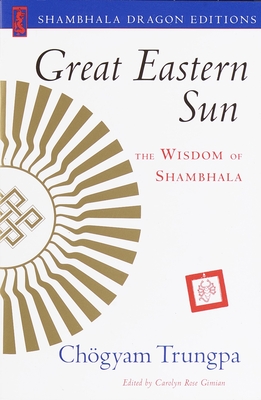 Great Eastern Sun
The Wisdom of Shambhala
Shambhala, Paperback, 9781570628184, 296pp.
Publication Date: September 12, 2006
* Individual store prices may vary.
Shop Local
Enter your zip code below to find indies closest to you.
Description
In "Shambhala: The Sacred Path of the Warrior " Chogyam Trungpa offers an inspiring and practical guide to enlightened living based on the Shambhala journey of warriorship, a secular path taught internationally through the Shambhala Training program.
"Great Eastern Sun: The Wisdom of Shambhala " is a continuation of that path. "Shambhala" was an exploration of human goodness and its potential to create an enlightened society--a state that the author calls "nowness." And in that spirit of nowness, "Great Eastern Sun "--which is accessible to meditators and nonmeditators alike--centers on the question, "Since we're here, how are we going to live from now on?
About the Author
Ch?gyam Trungpa (1940 1987) meditation master, scholar, and artist was founder and president of Vajradhatu, Naropa University, and Shambhala Training. His many books include Cutting Through Spiritual Materialism, Shambhala: The Sacred Path of the Warrior, The Myth of Freedom, Meditation in Action, and Great Eastern Sun.

The compiler and editor of "The Collected Works of Chogyam Trungpa," Carolyn Rose Gimian, has been editing the works of Chogyam Trungpa for more than twenty-five years. Following his death, she became the founding director of the Shambhala Archives, the archival repository for Chogyam Trungpa's work in Halifax, Nova Scotia.
Diana J. Mukpo was born in England in 1953. She attended the prestigious Benenden School until she left at the age of sixteen to marry the Tibetan Buddhist teacher Chogyam Trungpa Rinpoche. Mrs. Mukpo moved to the United States in 1970, where she remained with Trungpa Rinpoche until his death in 1987. During their marriage, she pursued intensive study of dressage. She is now the owner and director of Windhorse Dressage, and she travels and teaches dressage clinics throughout the United States and Canada.


Praise For Great Eastern Sun…
"As a loving and grateful student of Chögyam Trungpa, the Dorje Dradul of Mukpo, I am delighted that these wonderful teachings—which have so profoundly influenced and shaped my life—are now available to benefit others. May countless people have the good fortune to read this book."—Pema Chodrön, author of When Things Fall Apart



"With brilliance and good will, Chögyam Trungpa illuminates the dharma of wise society. He invites all of good heart to find a dignity in their human experience that joins together heaven and earth."—Jack Kornfield, author of After the Ecstasy, the Laundry