Secrets of the Blue Cliff Record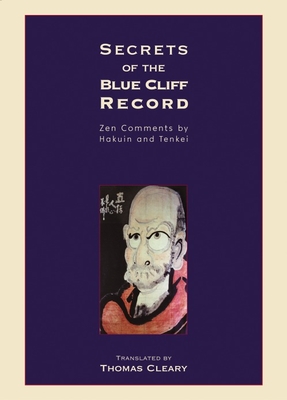 Secrets of the Blue Cliff Record
Zen Comments by Hakuin and Tenkei
Shambhala, Paperback, 9781570629129, 368pp.
Publication Date: December 10, 2002
* Individual store prices may vary.
Buy Now
or
Shop Local
Enter your zip code below to purchase from an indie close to you.
Description
"The""Blue Cliff Record "is a classic text of Zen Buddhism, designed to assist in the activation of dormant human potential. The core of this extraordinary work is a collection of one hundred traditional citations and stories, selected for their ability to bring about insight and enlightenment. These vignettes are known as "gongan" in Chinese and "koan" in Japanese.
"Secrets of the Blue Cliff Record "is a fresh translation featuring newly translated commentary from two of the greatest Zen masters of early modern Japan, Hakuin Ekaku (1685-1768) of the Rinzai sect of Zen and Tenkei Denson (1648-1735) of the Soto sect of Zen. This translation and commentary on "The Blue Cliff Record " sheds new light on the meaning of this central Zen text.
About the Author
Thomas Cleary is the translator of "Opening the Dragon Gate" by Chen Kaiguo and Zhen Shunchao and "The Story of Chinese Zen" by Nan Huai-Chin, as well as "The Art of War" by Sun Tzu, "The Book of Five Rings" by Miyamoto Musashi, "The Japanese Art of War," and dozens of other titles on martial philosophy, Buddhism, Taoism, religion, and philosophy. He was born in 1949 and lives in Oakland, CA.
Praise For Secrets of the Blue Cliff Record…
"Authentic traditions of commentary have been hard to find—until this fluidly translated work, which includes commentaries by two of the greatest Zen masters of early modern Japan . . . their words shine light on this deep and extraordinary work."— Tricycle



"These commentaries make the challenges of the Zen masters available to the spiritually courageous among us."— Bodhi Tree Book Review