Meditations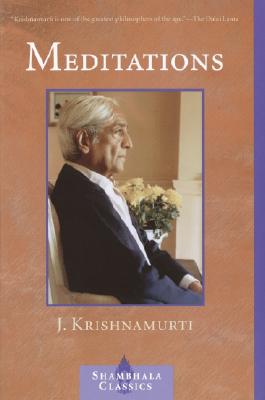 Meditations
Shambhala, Paperback, 9781570629419, 128pp.
Publication Date: September 10, 2002
* Individual store prices may vary.
Buy at Local Store
Enter your zip code below to purchase from an indie close to you.
or
Not Currently Available for Direct Purchase
Description
Krishnamurti (1895-1986) went from his origins in a small south Indian village to become one of the great spiritual teachers of the twentieth century. He taught that the only way to peace on earth is the transformation of the human psyche--and that there is no path to this transformation, no method for achieving it, no gurus or spiritual authorities who can help. The transformation is a truth each of us must discover within ourselves.
This classic collection of brief excerpts from Krishnamurti's books and talks presents the essence of his teaching on meditation--a state of attention, beyond thought, which brings total freedom from authority and ambition, fears and separateness. This doubly expanded edition features even more of the great teacher's wisdom than the original version, and also includes some never-before-published material.
About the Author
J. Krishnamurti (1895-1986) was a renowned spiritual teacher whose lectures and writings have inspired thousands. His works include On Mind and Thought, On Nature and the Environment, On Relationship, On Living and Dying, On Love and Lonliness, On Fear, and On Freedom.

Jiddu Krishnamurti lived from 1895 to 1986, and is regarded as one of the greatest philosophical and spiritual figures of the twentieth century. He was first discovered by the Theosophists on a beach in South India in 1910 at the age of 13 and was educated to be the new World Teacher for the ages. Then he took an extraordinary turn. In 1929, at one of the enormous annual European gatherings of the Theosophists in Holland, he announced his decision to step down from any formal role to promote him as a World Teacher, resigned as figure head of the Theosophists, and cut all ties to any notion of a religious or spiritual organization.Krishnamurti claimed no allegiance to any caste, nationality or religion and was bound by no tradition. His purpose was to set humankind unconditionally free from the destructive limitations of a conditioned mind. For nearly sixty years, he traveled the world and spoke spontaneously to large audiences until the end of his life in 1986 at the age of 90. He had no permanent home, but when not traveling, he often stayed in Ojai, California, Brockwood Park, England, and in Chennai, India. In his talks, he pointed out to people the need to transform themselves through self knowledge, by being aware of the subtleties of their thoughts and feelings in daily life, and how this movement can be observed through the mirror of relationship.
Praise For Meditations…
"Few modern thinkers have integrated psychology, philosophy, and religion so seamlessly as Krishnamurti."— Publishers Weekly