Sacred Time and the Search for Meaning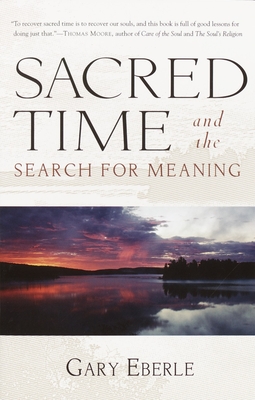 Sacred Time and the Search for Meaning
Shambhala, Paperback, 9781570629624, 240pp.
Publication Date: January 14, 2003
* Individual store prices may vary.
Buy Now
or
Shop Local
Enter your zip code below to purchase from an indie close to you.
Description
In "Sacred Time and the Search for Meaning, "author Gary Eberle contemplates how humans' view of time has evolved throughout history, how we came to measure time, and why we feel especially starved for it now. Eberle seeks to rediscover a renewed sense of meaning in life through looking for ways to enter the realm of sacred time or "sabbath time"--where we can reconnect with the slower, deeper rhythms of life that have traditionally been experienced through worship, prayer, and the observance of holy days.
Drawing from the work of Western philosophers from Aristotle to Heidegger, and on theorists from Jung to Foucault, he presents both an intellectual history of time and a personal account of his own search for sacred time. Along the way he formulates an insightful analysis of our culture's obsession with speed and efficiency, and he offers guidance for slowing down to savor life outside of schedules and routines, showing the way toward finding fulfillment in this increasingly accelerated world.
Praise For Sacred Time and the Search for Meaning…
"Eberle's expository prose has a clear and simple style that easily carries the reader through many ideas and perceptions. . . . His own reflections on how to alter our relationship with time and to discover both personal and communal sacred time, are at once touching and profound."—Library Journal



"An inspiring book that will compel you to reconsider your use of time and how you can enrich your personal soul time. . . . Take a vow right now to end your time famine and to savor the bounties of sacred time."—Spirituality & Health

"Brimful with modern and ancient wisdom, this book is as captivating as it is liberating. Gary Eberle is the perfect guide through the maze of time to the gates of eternity. Especially if you are too busy, do your soul a favor—read and savor this truly wonderful book."—Forrest Church, author of Bringing God Home and Life Lines

"Sacred Time and the Search for Meaning is of immense importance for the task of getting back to truly basic values and making life once again suitable for humans—and not only for machines and robots. To recover sacred time is to recover our souls, and this book is full of good lessons for doing just that."—Thomas Moore, author of Care of the Soul and The Soul's Religion