Becoming Raw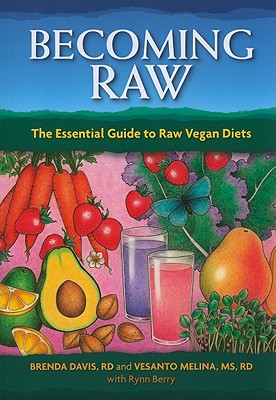 Becoming Raw
The Essential Guide to Raw Vegan Diets
Book Publishing Company (TN), Paperback, 9781570672385, 374pp.
Publication Date: February 25, 2010
* Individual store prices may vary.
Buy Now
or
Shop Local
Enter your zip code below to purchase from an indie close to you.
Description
Nutrition experts Brenda Davis and Vesanto Melina provide the essential information needed to safely embrace a new dietary lifestyle as they did for vegetarians/vegans in The New Becoming Vegetarian and Becoming Vegan. Here is the first authoritative look at the science behind raw foods.
People use raw food to lose weight, fight chronic health problems, and/or benefit from the high level of nutrients found in uncooked or sprouted foods.
The authors offer science-based answers to tough questions about raw foods and raw diets, furnish nutrition guidelines and practical information, and show how to construct a raw diet that meets recommended nutrient intakes simply and easily. A section of over forty-five recipes provides dishes for any time of day and every occasion.
Food historian Rynn Berry fills readers in on the history of raw diets. Also includes a section on what foods and equipment are needed to get started and what raw food preparation basics are good to master.
About the Author
Vesanto Melina, M. Sc., R.D., was trained at the University of Toronto and the University of London, England, and taught nutrition at the University of British Columbia in Vancouver and Seattle's Bastyr University. She was a coordinator for the vegetarian section of the Manual of Clinical Dietetics (Dietitians of Canada and the American Dietetics Association) and is co-author of the nutrition classic Becoming Vegetarian (now in eleven countries and three languages), as well as Cooking Vegetarian, Becoming Vegan and Healthy Eating for Life to Prevent and Treat Cancer. Vesanto is widely known in the mediapress, TV and radio. She is an internationally known speaker and has presented workshops on the topic of vegetarian nutrition to over 1,800 dietitians throughout. North America. Vesanto received the prestigious Clintec award for leadership in dietetics. She regularly consults for government and industry and for individual clients. To complement her scientific expertise is Vesanto's joy in creating food that is healthy, delicious and simple to prepare. Her website is www.nutrispeak.com.

Davis is a registered dietitian and former Chair of the Vegetarian Nutrition Dietetic Practice Group of the American Dietetic Association.

Rynn Berry is the Historical Advisor to the North American Vegetarian Society and the author of Famous Vegetarians and Their Favorite Recipes, Food of the Gods: Vegetarianism and the World's Religions, Hitler: Neither Vegetarian Nor Animal Lover, The New Vegetarians, Becoming Raw, and The Vegan Guide to New York City.