And the Fans Roared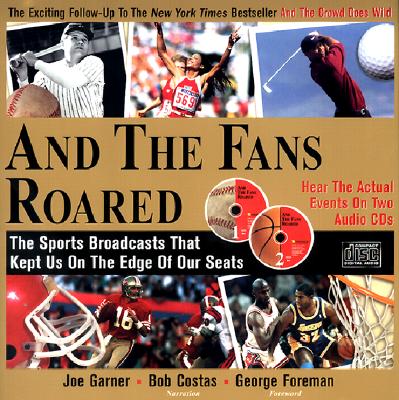 And the Fans Roared
The Sports Broadcasts That Kept Us on the Edge of Our Seats [With 2 CD's]
Sourcebooks, Hardcover, 9781570715822, 177pp.
Publication Date: October 2000
* Individual store prices may vary.
Not Currently Available for Direct Purchase
or
Shop Local
Enter your zip code below to purchase from an indie close to you.
Description
New York Times and USA Today Bestseller Heroes Triumphed.
Announcers Went Wild.
And The Fans Roared.
Feel The Thunder Again.
Featuring the riveting stories that bring you back to the moment, acclaimed sports photographs and two audio CDs narrated by award-winning sports journalist Bob Costas, And The Fans Roared delivers more than forty of the most spine-tingling sports moments ever broadcast.
Joe Garner's bestselling book And The Crowd Goes Wild left sports fans clamoring for more of the thrilling events that brought them to the edge of their seats. And The Fans Roared delivers.
In gripping style, And The Fans Roared highlights announcers' surprised, amazed and awestruck calls from every major sports arena--from baseball, football, basketball and the Olympics, to hockey, auto and horse racing, tennis, boxing, cycling and golf.
Accompanying this book, the two audio CDs highlight the exciting moments that brought us to our feet, when heroes reached for the stars, announcers reached for the words to describe them...and the fans roared
Relive the most electrifying sports moments ever broadcast, including:
September 29, 1954 -- Willie Mays Makes "The Catch"
October 25, 1964 -- Jim Marshall Runs the Wrong Way
January 22, 1973 -- George Foreman Beats Joe Frazier
"Down goes Frazier Down goes Frazier "
February 23, 1980 -- Eric Heiden Dominates Winter Olympics
October 7, 1984 -- Walter Payton Breaks Career Rushing Record
"Looking for the record...he's got it "
September 11, 1985 -- Pete Rose Smacks Hit No. 4,192
"It is pandemonium here at Riverfront Stadium "
May 7, 1989 -- "The Shot" Michael Jordan Beats Cleveland
March 28, 1992 -- Duke Beats Kentucky on Laettner Buzzer-Beater
October 23, 1993 -- Joe Carter Homer Wins World Series
August 1, 1996 -- Michael Johnson Wins 200 and 400 Gold in Atlanta
Hear each memorable broadcast again--or for the very first time in this New York Times bestseller
About the Author
Garner is a twenty-year veteran of the radio business, including seven years as an executive with Westwood One, the international radio syndication company and owner of the NBC Radio Networks and Mutual Broadcasting System.

A nineteen-time Emmy Award winner, Bob Costas is the host of NBC's Football Night in America and the lead anchor for the MLB network. Costas also hosts NBC's coverage of the Olympic Games, the U.S. Open, Kentucky Derby, and more.

George Foreman is a two-time former heavyweight champion of the world, an Olympic gold medalist, a revolutionary in the grilling industry, and an ordained minister, in addition to being a best-selling author. He lives in Houston, Texas, where he founded the George Foreman Youth and Community Center.