The Four Corners of the Sky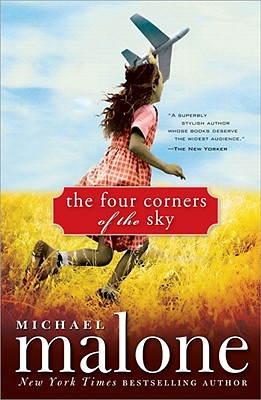 The Four Corners of the Sky
Sourcebooks Landmark, Hardcover, 9781570717444, 544pp.
Publication Date: May 1, 2009
* Individual store prices may vary.
Buy at Local Store
Enter your zip code below to purchase from an indie close to you.
or
Not Currently Available for Direct Purchase
Description
"There's humor and action aplenty, but Four Corners is also a warm-hearted look at how we love and forgive. Five hundred and forty-four pages never seemed so short."
People Magazine 4-Star Review
In small towns between the North Carolina Piedmont and the coast the best scenery is often in the sky. On flat sweeps of red clay and scrub pine the days move monotonously, safely, but above, in the blink of an eye, dangerous clouds can boil out of all four corners of the sky...The flat slow land starts to shiver and anything can happen. In such a storm, on Annie Peregrine's seventh birthday, her father gave her the airplane and minutes later drove out of her life.
Twenty years is a long time to be without a father, and, for Navy pilot Annie Peregrine-Goode, the sky has become a home the earth has never been. So when her father calls out of the blue to ask for a dying wish--one both absurd and mysterious--no is the easiest of answers. Until she hears that the reward is the one thing she always wanted ...
Thus begins an enchanting novel that bursts with energy from the first pages, and sweeps you off on a journey of unforgettable characters, hilarious encounters, and haunting secrets.
The Four Corners of the Sky is master storyteller Michael Malone's new novel of love, secrets, and the mysterious bonds of families. Malone brings characters to life as only he can, exploring the questions that defy easy answers: Is love a choice or a calling?
Why do the ties of family bind so tightly?
And is forgiveness a gift to others...or a gift we give ourselves? PRAISE FOR THE FOUR CORNERS OF THE SKY
"Devoted Michael Malone fans have been waiting more than 20 years for another Handling Sin, perhaps the greatest road novel since Tom Jones. The wait is over... The cast of characters is as large as it is rich. Malone is an absolute master of Dickensian character building...Don't miss it."
Bill Ott, editor-in-chief, Booklist
"Fried Green Tomatoes with copious draughts of Shakespeare... Malone (Theater Studies and English/Duke Univ.; The Last Noel, 2002, etc.) knows that the small-town South is a subject all unto itself, and no matter how eccentric the characters, they're wholly believable in that context... Secrets and intrigues among the honeysuckle: a sun-washed yarn of the New South, affectionately told."
Kirkus starrred review
"A father-daughter story that will have young adult readers (and you) laughing and crying and rooting for Annie, now 26 years old and still stinging from her father's abandonment of the family when she was just seven. Malone's titles have broad adult appeal, and Four Corners has the potential for being a gateway novel for maturing fiction readers."
School Library Journal
"This book is so complex and so beautifully done, it sort of outclasses Dickens (and I may have just committed literary heresy here). The Four Corners of the Sky is the best thing I have read in years and you can imagine how much I read. Truly, I couldn't put it down. I loved it."
Kathy Ashton, The King's English Bookshop
PRAISE FOR MICHAEL MALONE:
"Malone... delights the reader with his witty eye for the kind of detail that proclaims with humor and confidence, 'This is true '"
Los Angeles Times Book Review
"Malone shows a knack for colorful characters, snappy dialogue and tragicomic human foibles."
Salt Lake Tribune
"Brilliant and entertaining... Wonderfully shrewd... Mr. Malone's characters have dimension and scope."
New York Times Book Review
"Michael Malone has a true narrative gift, the true eye for the character in action, and a fluent prose wrought carefully and well...."
Robert Penn Warren (on Dingley Falls)
"Terribly funny, emotionally engaging and almost impossible to set aside...a heartwarming tour de force."
Newsweek (on Handling Sin)
"Satisfying, deeply pleasurable...brilliant and entertaining. One remembers Mr. Malone's idiosyncratic creations the way one remembers those of another brilliant social caricaturist, Charles Dickens."
New York Times Book Review (on Foolscap)
" Malone] combines humor, compassion and literate writing with a storytelling ability that is rare in contemporary fiction."
The Houston Chronicle (on Uncivil Seasons)
"A superbly stylish author whose books deserve the widest audience."
The New Yorker (on The Delectable Mountains)
"Like Charles Dickens--the comparison isn't farfetched--the author isn't afraid of stretching the truth to encompass it."
San Francisco Chronicle (on Time's Witness)
"Malone creates a gallery of Southern portraits with compassion, humor and more than a little blood. Highly recommended."
Chicago Tribune (on First Lady)
"Malone writes with such quiet authority and clear understanding of the world his characters inhabit that the story strikes deep emotional chords...."
Washington Post Book World (on The Last Noel)