Driftless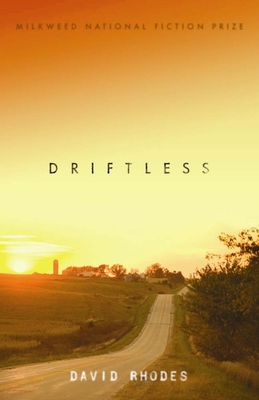 Driftless
Milkweed Editions, Paperback, 9781571310682, 429pp.
Publication Date: May 5, 2009
* Individual store prices may vary.
Buy at Local Store
Enter your zip code below to purchase from an indie close to you.
or
Buy Here
Description
The few hundred souls who inhabit Words, Wisconsin, are an extraordinary cast of characters. The middle-aged couple who zealously guards their farm from a scheming milk cooperative. The lifelong invalid, crippled by conflicting emotions about her sister. A cantankerous retiree, haunted by childhood memories after discovering a cougar in his haymow. The former drifter who forever alters the ties that bind a community. In his first novel in 30 years, David Rhodes offers a vivid and unforgettable look at life in small-town America.
About the Author
DAVID RHODES is an independent UNIX professional with broad experience throughout the IT industry, including system builds, program development, support and maintenance. He has worked with the Solaris Operating Environment and Sun Microsystems hardware for more than 13 years, with products ranging from Sun 3/50s and SunOS 3.5 to Sun Enterprise 10000 (Star Fire) servers and Solaris 9 OE.
DOMINIC BUTLER is a freelance technology consultant specializing in Solaris OE and UNIX-related projects. Working with IBM's e-business delivery development team, he helped develop and manage processes for building, updating, and recovering e-business servers within IBM's Universal Server Farm environment throughout the UK, Holland, and Nordic countries.
Praise For Driftless…
2010 All Iowa Reads Selection

Now, after what had to have been years of effort beyond the usual struggle of trying to make a good novel, we get [Rhodes's] fourth, and, I have to shout it out, finest book yet. Driftless is the best work of fiction to come out of the Midwest in many years."
Chicago Tribune

A profound and enduring paean to rural America. Radiant in its prose and deep in its quiet understanding of human needs."
Milwaukee Journal Sentinel

Driftless is a fast-moving story about small town life with characters that seem to have walked off the pages of Edgar Lee Masters's Spoon River Anthology.'"
Wall Street Journal

Comprised of a large number of short chapters, the novel opens with a prologue reminiscent of Steinbeck's beautiful tribute to the Salinas Valley in the opening of East of Eden, with a little touch of Michener's prologue to his novel Hawaii. The book moves at a stately pace as it offers deep philosophy and meditative asides about life in Words, Wisconsin, in the Driftless zone, which is to say, about life on earth."
NPR, All Things Considered"

Few books have the power to transport the way Driftless does, and it's Rhodes' eye for detail that we have to thank for it."
Time Out Chicago

A wry and generous book. Driftless shares a rhythm with the farming community it documents, and its reflective pace is well-suited to characters who are far more comfortable with hard work than words."
Christian Science Monitor, Best Novels of 2008

A symphonic paean to the stillness that can be found in certain areas of the Midwest, The writing in Driftless is beautiful and surprising throughout, [and] it's this poetic pointillism that originally made Rhodes famous."
Minneapolis Star Tribune

[Driftless] presents a series of portraits that resemble Edgar Lee Masters's 'Spoon River Anthology' in their vividness and in the cumulative picture they create of village life. Each of these stories glimmers."
New Yorker

Rhodes consciously avoids drama to deliver a portrait of a real rural America as singular, beautiful and foreign as anywhere else."
Philadelphia City Paper

Rhodes shows he still knows how to keep readers riveted. As affecting as it is pleasantly overstuffed."
Publishers Weekly

Encompassing and incisive, comedic and profound, Driftless is a radiant novel of community and courage."
Booklist, 2008 Editor's Choice, starred review

Though Driftless is a deeply contemporary talewhat it has to say about the way corporations treat small farmers is, for example, quite pressingit also has the architectural complexity of the great 19th-century novels, but without the gimcrackery too often required to hold their stories together. It partakes as much of the moral universe of Magnolia as of Middlemarch. And it earns comparison to both."
Books & Culture

Unique, funny, absorbing, at times frightening. A novel crafted by a real writer."
California Literary Review, Best Books of 2008