Let Him Go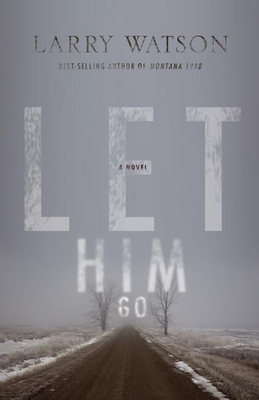 Let Him Go
Milkweed Editions, Hardcover, 9781571311023, 269pp.
Publication Date: September 2013
* Individual store prices may vary.
Shop Local
Enter your zip code below to find indies closest to you.
Description
The celebrated author of Montana 1948 (over 400,000 copies sold) returns to the American West in this riveting tale of familial love and its unexpected consequences.

Dalton, North Dakota. It's September 1951: years since George and Margaret Blackledge lost their son James when he was thrown from a horse; months since his widow Lorna took off with their only grandson and married Donnie Weboy. Margaret is steadfast, resolved to find and retrieve her grandson Jimmy the one person in this world keeping James's memory alive while George, a retired sheriff, is none too eager to stir up trouble. Unable to sway his wife from her mission, George takes to the road with Margaret by his side, traveling through the Dakota badlands to Gladstone, Montana. When Margaret tries to convince Lorna to return home to North Dakota and bring little Jimmy with her, the Blackledges find themselves entangled with the entire Weboy clan, who are determined not to give up the boy without a fight. From the author who brought us Montana 1948, Let Him Go is pitch-perfect, gutsy, and unwavering. Larry Watson is at his storytelling finest in this unforgettable return to the American West.
About the Author
Larry Watson was born in Rugby, North Dakota, and raised in Bismarck. The winner of numerous literary awards, he won the Milkweed National Fiction Prize, The Mountains & Plains Bookseller Association Regional Book Award, and his novel "Montana 1948" was named one of the Best Books of 1993 by both "Library Journal" and "Booklist." He is also the author of "In a Dark Time, " a novel, "Leaving Dakota, " a collection of poetry, and "Justice, " a book of short fiction. He is a recipient of a National Endowment of the Arts award in fiction. Larry Watson teaches English at the University of Wisconsin at Stevens Point.
Praise For Let Him Go…
Advance Praise for Let Him Go

"In Let Him Go, Larry Watson evokes the deepest kind of suspense: that based upon the fact that humans are unpredictable and perhaps ultimately unknowableeven to their most intimate associates. This fierce, tense book is beautifully written, with spare and economical prose out of which blooms a vivid and uncompromising portrait of the modern West. A brilliant achievement."
Alice LaPlante, bestselling author of Turn of Mind

"Let Him Go is as commanding as its title: you will be immediately gripped by the narrow-eyed, big-hearted pursuit of a child in danger. This is a literary thriller of the highest orderon par with Daniel Woodrell's Winter's Bonean unrelenting quest through an unforgiving landscape and deadly family web."
Benjamin Percy, author of Red Moon and The Wilding

Slyly suspenseful, highly engaging.... Known for crisp images, resonant backdrops, and sharp characterizations drawn without flashy over-accessorizing, Watson's latest traces the desperate lengths families will go to in order to protect their own."
Publishers Weekly, STARRED REVIEW

"The sort of book that puts the shine back on genre as an adjective to describe fiction."
Kirkus

Larry Watson is, quite simply, an American classic. He uses language as stark and spare as the landscape he describes and direct and powerful as the people in two families caught up in a conflict that is bound for tragedy. If there is one voice for the northern plains, it is his."
Bill Cusumano, Nicola's Books, Ann Arbor, MI

"I loved Let Him Go, so real, and heartbreaking, and tragic. It never let me go as I took a trip with George and Margaret Blackledge. Larry Watson is a master at setting up the gut-wrenching atmosphere and these hard-scrabble characters. My heart went out to them in their desperate situation and their dead end choices. Brilliant!"
Jason Kennedy, Boswell Book Company, Milwaukee, WI

Let Him Go is brilliant, devastating. I will be reading more Larry Watson.
J Ganz, Books-A-Million, Dickson City, PA

Praise for Larry Watson

Watson writes with ruthless honesty about his characters' stunted dreams, unpredictable emotions and outbursts of senseless violence, showing once again that he understands not only the West but the untamed hearts that have roamed it."
Publishers Weekly

Watson's powerful prose easily recreates the vivid beauty of Big Sky country."
Booklist

Graceful shifts from observation to insight, capturing the spare beauty of the landscape."
New York Times Book Review

Watson's sinewy third-person narrative dips into each character's perspective. He also makes superb use of dialogue, both to illuminate his characters and to dramatize the intensity of their conflicts."
Los Angeles Times

There's something eminently universal in Watson's ponderings on the human condition, and it's refracted through a nearly perfect eye for character, place, and the rhythms of language."
The Nation

Praise for American Boy

INDIE NEXT PICK
ESQUIRE MAGAZINE BEST BOOK
BOOKLIST EDITOR'S CHOICE
MIDWEST BOOKSELLERS CHOICE AWARD FINALIST

...powerful and exquisitely crafted...Watson's portraits of small town life and the people who live itmostly during the 1940s and 1950sare compassionate and true."
Steve Mills, Chicago Tribune's Printers Row

There are a handful of writers I push on everyone I meet, and Larry Watson is one of them. For the past twenty years has quietly penned some of the wisest, most powerful novels in my library, and I am thrilled to make room on the shelf for his latest, a gripping, poignant coming-of-age story that opens with a gunshot that will ultimately bury its bullet in your heart. American Boy is an American classic."
Benjamin Percy, author of Red Moon

Larry Watson's latest book, American Boy, may be his best yet. With the patient skill of a seasoned writer, Watson tells an engaging coming-of-age story of a young man in Willow Falls, Minnesota during the 1960s. Youthful passions, heartbreaks, loyalties and moral uncertainties are all rendered in vivid color."
David Rhodes, author of Jewelweed

[Watson will] harvest a bumper crop of readers this autumn."
Milwaukee Journal Sentinel

[Watson] spins charm and melancholy around the same fingers, the result a soft but urgent rendering of a young man coming of age in rural America that is recognizable to even those of us who were never there."
Denver Post

Watson is sure-footed on familiar ground in American Boy.... [he's] made something of a specialty of that space where teenagers struggle between hormonal urges and moral decisions as they grope toward adulthood. His evocation of that difficult passage feels as sure as his evocation of small-town life in the upper Midwest more than one generation ago.... As convincing as it is lonely and bleak."
Billings Gazette

Watson has penned some of the best contemporary fiction about small-town America, and his new novel does not disappoint.... With his graceful writing style, well-drawn characters, and subtly moving plot, Watson masterfully portrays the dark side of small-town America. Highly readable and enthusiastically recommended."
Library Journal (STARRED)

Eighteen years ago, Milkweed published Watson's breakthrough novel, Montana 1948; now the author returns to Milkweed with another powerful coming-of-age story about a teenage boy [Matthew Garth] being shocked into maturity by a moment of sudden and unexpected violence.... Like Holden Caulfield trying to catch innocent children before they fall off the cliff adjoining that field of rye, Matthew struggles to save the Dunbars and, in so doing, save himself. He fails, of course, but that's the point of much of Watson's always melancholic, always morally ambiguous fiction: coming-of-age is about failure as much as it is about growth."
Booklist (STARRED)

Watson's new novel about a young man's coming-of-age in rural Minnesota during the early '60s never veers off course."
Publishers Weekly

Watson's sixth novel resonates with language as clear and images as crisp as the spare, flat prairie of its Minnesota setting.... A vivid story of sexual tension, family loyalty and betrayal."
Kirkus

A true, realistic, and intelligent novel.... Watson does a wonderful job of peering under the masks of these small town folks and helping us see what their real selves are."
Carl Hoffman, Boswell Book Company

Nobody knows the heartland better than Larry Watson and no one is better at conveying its stark landscape and the stark truths that can arise from living in it.... Watson perfectly evokes an era while telling a story that is timeless."
Bill Cusumano, Nicola's Books

Utterly breath-taking.... I recommend it without reserve to every reader who appreciates life and fine literature."
Nancy Simpson, Book Vault

Awards for Montana 1948

MILKWEED NATIONAL FICTION PRIZE WINNER
MOUNTAINS AND PLAINS BOOKSELLER AWARD WINNER
FRIENDS OF AMERICAN WRITERS AWARD WINNER
BANTA AWARD WINNER
CRITICS CHOICE AWARD WINNER
ALA/YALSA BEST BOOKS FOR YOUND ADULTS WINNER
NEW YORK LIBRARY BEST BOOKS FOR THE TEEN AGE
ALA BOOKLIST EDITOR'S CHOICE AWARD WINNER